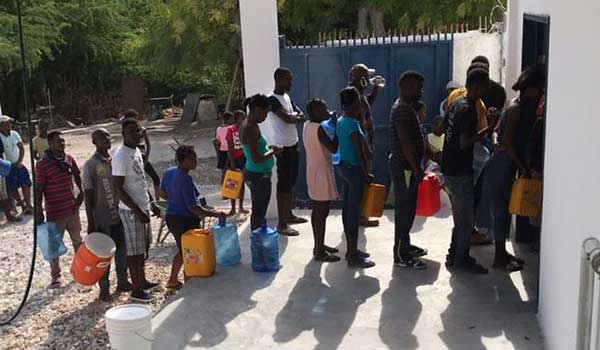 A cup of cold water
Haitians living on La Gonâve now no longer have to question whether or not their water source is safe or clean or good.
"A cup of cold water poured in the name of Jesus is a different kind of cup of water," Dr. Jo Anne Lyon, General Superintendent Emeritus of The Wesleyan Church, once said.  
Her statement reflects what's been happening in the country of Haiti.  
Some 780 million people worldwide lack access to clean water. Haitians know this first hand. A country with health crises because of the lack of clean water, Haiti currently has the highest infant mortality rate in the Western Hemisphere. In fact, the leading cause of infant mortality and illness in Haitian children is contaminated water. In "The Forgotten Haiti" island of La Gonâve, residents have often been forced to gather water from garbage-filled ravines.  
Haiti's lack of clean water is an issue World Hope International (WHI) could not ignore. 
Last year, WHI partnered with GivePower and West Indies Self Help (WISH) to create a solar-powered desalination system that would support both tap and bottled water. This system is capable of producing 20,000 gallons of water every day and transforming the abundant brackish and salty water into clean and healthy drinking water.  
This system is life changing for Haitians. 
"The first need is water," said Dan Irvine, WHI Haiti director. "It's impossible to do community development work without clean water."  
In the early stages of planning for the water system and meeting with island locals, one local woman, Madame Prinston, said "some organizations, they come here and say we need water and they identify that. They build lots of wells, but the water is no good. If today, we can find people thinking of us and have good water, we would thank God."  
Haitians living on La Gonâve now no longer have to question whether or not their water source is safe or clean or good. Rather than living in fear or wondering when and where they will find safe drinking water, locals can bring their own water jug to the water farm (another term for the solar-powered desalination system) and receive fresh drinking water.   
The water farm's positive impact is multi-faceted, its effects rippling through the community. In addition to supplying residents with clean water at an affordable rate, Hospital Wesleyan de La Gonâve, the island's only local hospital, receives free water from the project and has reliable, clean water to use for sanitation and treatment of patients. 
The arrival of clean water at Hospital Wesleyan de La Gonâve offers hope to staff and patients.