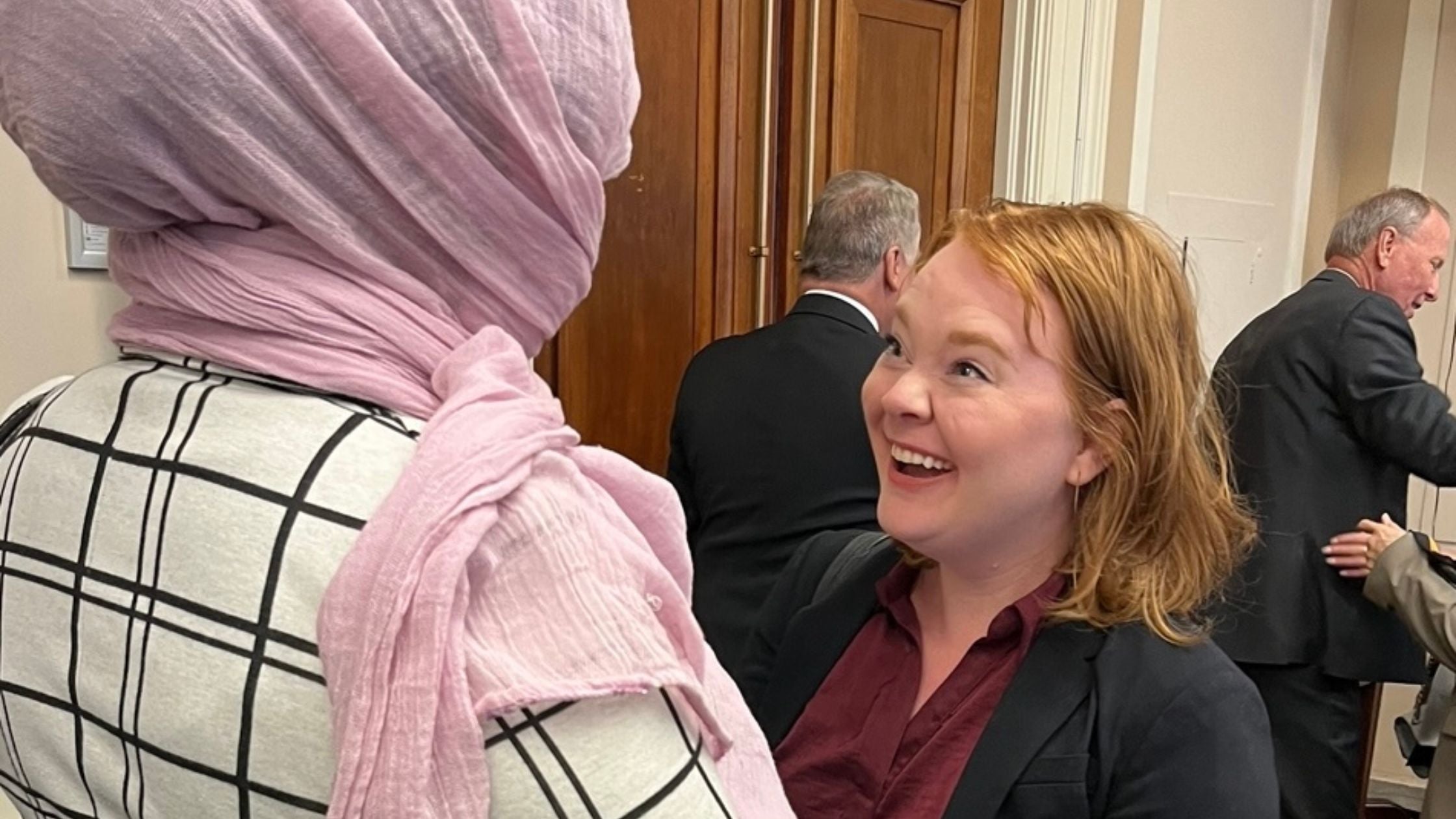 Elyssa Schroeder, a doctoral candidate at the University of Georgia's Center on Human Trafficking Research & Outreach, at right, congratulates Miriam Fullah, a Sierra Leone human trafficking witness with World Hope International, after Fullah's Sept. 19 testimony before the U.S. House Foreign Affairs Subcommittee on Global Health and Global Human Rights and International Organizations at the U.S. Capitol.
House Members Hear Story of Child Sacrifice Survivor
"I am speaking out today because I am a mother, and I fear for the safety of my children," Miriam Fullah told members of the U.S. Congress on Sept. 19.
It was the 46-year-old's first visit to the United States. She came to deliver witness testimony on ritual abuse and child sacrifice in Africa.
Word probably would get back to Sierra Leone, where Fullah works for nonprofit humanitarian organization World Hope International. There she oversees the nation's only specialized shelter for human trafficking survivors. Fullah and a survivor traveled to Washington, D.C., to tell the teenager's story of surviving child sacrifice.
They knew they had to be careful. The hearing, with the U.S. House Foreign Affairs Subcommittee on Global Health and Global Human Rights and International Organizations, was open to the public. Everything was on the record. And a video archive would be available on the internet for anyone in the world to watch.
Fullah shrouded her neck, head and face with a gauzy, lilac scarf. A 2-inch-wide gap in the material exposed only her eyes and the bridge of her nose.
"I am testifying behind the screen today because I will be labeled as a person bringing a bad name to my country and knowing fully well what the consequences might be," Fullah said. "I am willing to do this because families — mostly impoverished ones — are seeking answers and want justice for their loved ones. I want to be the voice of mothers because I am one myself. If Sierra Leone is not safe for children, then mine also are not safe."
Fullah, as well as witnesses testifying on events in Liberia, Uganda and Ghana, said the number of reported ritualistic child sacrifices in those countries increase during October, November and December: election and festive seasons. Many Africans believe child sacrifice helps politicians win elections, witnesses said. The trend extends beyond politics, too. The common factor is native doctors, or "witch doctors."
Organ harvesting and child sacrifice are not talked about much in Africa, even in educated and enlightened circles, Fullah said. Most children abducted for ritual sacrifice come from impoverished families who are left to grieve silently.
"Organ harvesting and child sacrifice in Sierra Leone are mostly linked to ritual murder," Fullah said. "A child will be kidnapped from school or in their community and will be handed over for a native doctor who will typically take the child into deserted areas where they will be killed. They will mostly harvest organs like their private parts, breasts, tongues and intestines. Children, especially girls, are mostly vulnerable because sometimes the native doctor will demand the blood of a virgin. This was exactly what happened in the story I'm about to share. I am present here today with a survivor that I have walked with closely."
The survivor, Fullah said, gave Fullah permission to share her story. To protect the privacy of the survivor throughout the House subcommittee hearing, Fullah used the name "Marie" in place of the survivor's name.
The following is a compilation of Fullah's testimony before the House subcommittee and a personal interview with Fullah. This retelling of the survivor's story also uses the name Marie.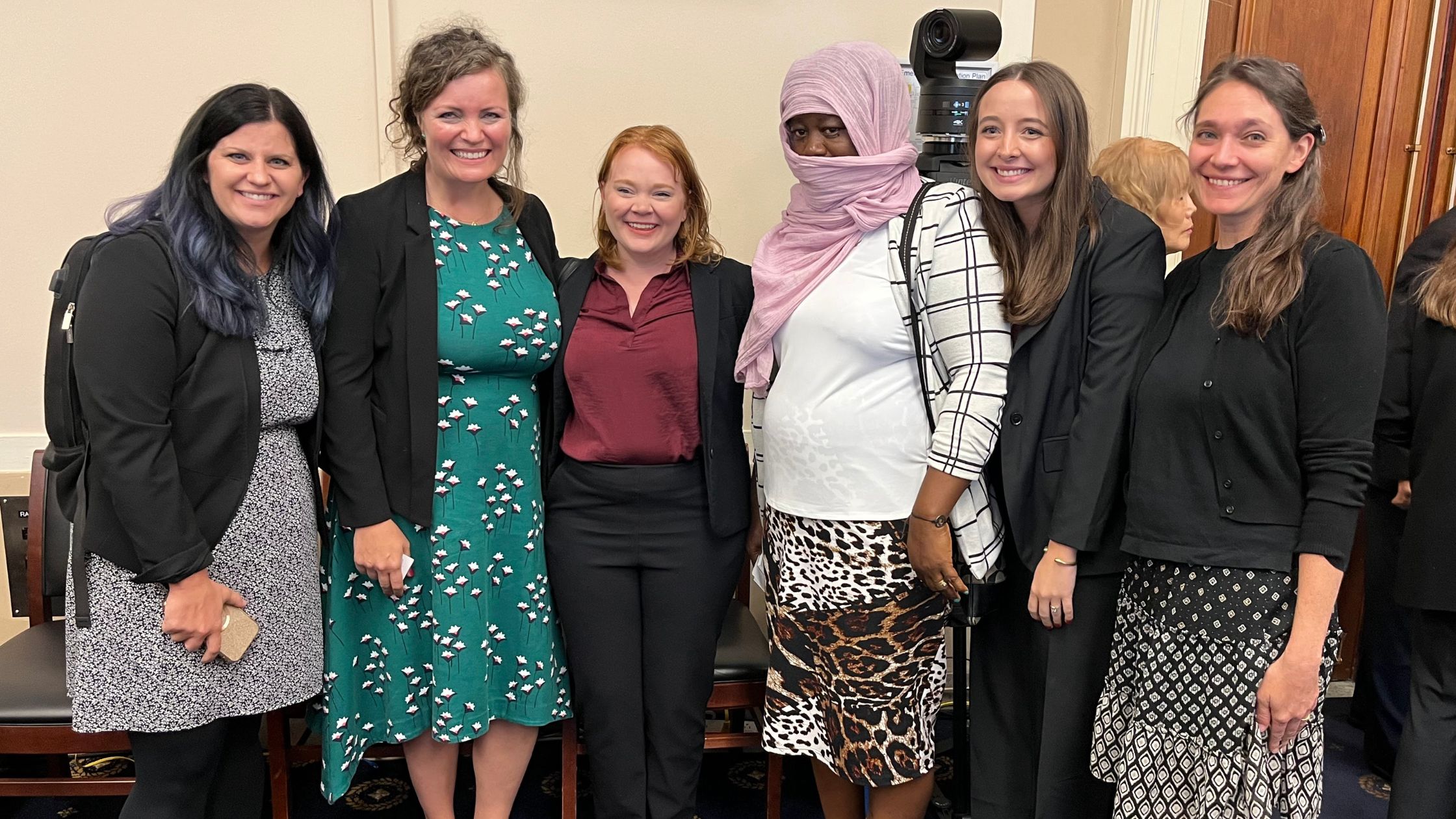 Attendees of a Sept. 19 public hearing before the House Foreign Affairs Subcommittee on Global Health, Global Human Rights and International Organizations in Washington, D.C., stand alongside witness Miriam Fullah, fourth from left. Fullah, a human trafficking protection manager with World Hope International, testified on behalf of a child sacrifice survivor in Sierra Leone. Appearing with Fullah are, from left: Kelsey Wieck and Haley Clark, both of World Hope International; and Elyssa Schroeder, Hope Dockweiler and Anna Cody, all of the University of Georgia Center on Human Trafficking Research & Outreach.
Marie's Survivor Story
Fullah, during an interview about Marie, said Marie was born in Sierra Leone. She was an only child whose birth was celebrated with enormous joy because her mother had experienced several miscarriages. Marie's parents divorced when she was a small child, and her father moved to another part of town. Marie doesn't remember seeing much of him. 
Unlike other children her age, Marie did not attend nursery school. The nearby schools wouldn't take her because she had speech difficulties, including a stutter. Her mother never gave up, though; she wanted Marie to get an education. After several years, a school agreed to admit Marie. She was 5.  
Making friends wasn't easy for Marie. Fullah said Marie remembers being bullied because of her stutter. Marie's mother was protective, and she often visited the school to help teachers protect Marie. 
Fullah shared the following in her testimony at the U.S. Capitol. 
"Marie — not her real name — was only 8 years [old] when she was brutally raped by her mother's boyfriend, whom she considered a father," Fullah said. "He had built a huge house he wanted to rent out but was particular about who the tenant should be. He wanted a rich individual or a big organization to rent the property. He waited for two years for his preferred tenant, but no one showed up. He believed that this was due to bad luck. Desperate for answers, he sought out the help of a native doctor who told him that for him to attract such favors, he would need to shed the blood of a virgin." 
During the interview, Fullah shared what happened.  
"He offered her a drink, and whilst drinking, he told her, 'I am about to do something to you, but I don't want you to say this to either your mother or anyone else,'" Fullah said. 
The man Marie had trusted raped her on a white sheet in the rental property. Then he drove her home, Fullah said. Marie's mother knew immediately something was wrong when she saw her daughter. 
"The mother, worried, asked her boyfriend to accompany her and Marie to the hospital, and he agreed," Fullah said. "By the time they reached the hospital, she was bleeding profusely." 
A doctor determined Marie had been raped, and police arrested the man, Fullah said.  
"This was how Marie and her mother came to meet World Hope International after her case was referred (by the police) for care and protection," Fullah said. "Both her and mother were admitted to the recovery centre because of security concerns. Marie and her mother were supported by social workers and counselors. With this support, she was able to testify in court." 
Both Marie and her mother resided at the recovery centre and were supported by the centre after their transition back to their community. 
Fullah attended the man's trial to support Marie, she told the subcommittee. 
"This perpetrator testified in court that he wanted her to die but thought of the relationship he had with the mother. So instead of having her killed, he raped her in this building until she was bleeding profusely," Fullah said. "He was indeed able to spill the blood of a virgin, all in the name of attracting favors."  
The man was convicted and sentenced to 15 years in prison.  
"This is not the case for many others," Fullah told the hearing subcommittee. "It is for these others that I stand here today." 
Fullah said Marie is lucky to be alive, but she suffers emotionally, years after the ritual abuse. 
"Marie was able to get justice because an organization like World Hope International was supporting this family through the process of getting justice, taking her to multiple court sessions and helping to expose the bribes that the perpetrator offered the mother," Fullah said.  
Marie, now 18, recently sat for her senior school final exams, Fullah said. She awaits the results to gain admission into college. She and her mother have been speaking against child sacrifice in their communities and for stronger laws that protect children and provide compensation to victims and their families. Marie wants to become a social worker, lawyer or nurse so she can advocate, defend and care for fellow survivors. 
The House Foreign Affairs Subcommittee on Global Health, Global Human Rights and International Organizations 
Several subcommittee members responded to witness testimony on child sacrifice in Africa. 
"This is insane that it's been allowed," said Rep. Christopher Smith, R-N.J., chair of the subcommittee. 
Rep. Susan Wild, D-Penn., ranking member of the subcommittee, said the witness testimony was hard to hear. 
"I don't think that we, as a country, can claim the mantle of being a world leader and the most powerful country in the world unless we use our resources and, quite frankly, our privilege to fight against exploitation of all humans around the world, and especially children," Wild said. 
Members of the House Foreign Affairs Subcommittee on Global Health, Global Human Rights and International Organizations are Reps.:  
Christopher Smith, R-N.J., chair 
Susan Wild, D-Penn., ranking member 
Maria Elvira Salazar, R-Fla. 
Amata Radewagen, R-American Samoa 
French Hill, R-Ark. 
Rick McCormick, R-Ga. 
John James, R-Mich. 
To watch the recorded Sept. 19 hearing and learn more about organ trafficking and child sacrifice in Africa, visit StopChildSacrifice.org.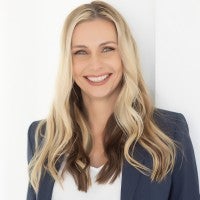 Kristen Wright
Special Guest Contributor
Kristen Wright is a journalist with more than 20 years' experience covering global issues. She is chief strategist and editor at Kristen Wright Strategic Communications. Reach her at kristen@kwstrategic.com and wrightkristenm on LinkedIn.