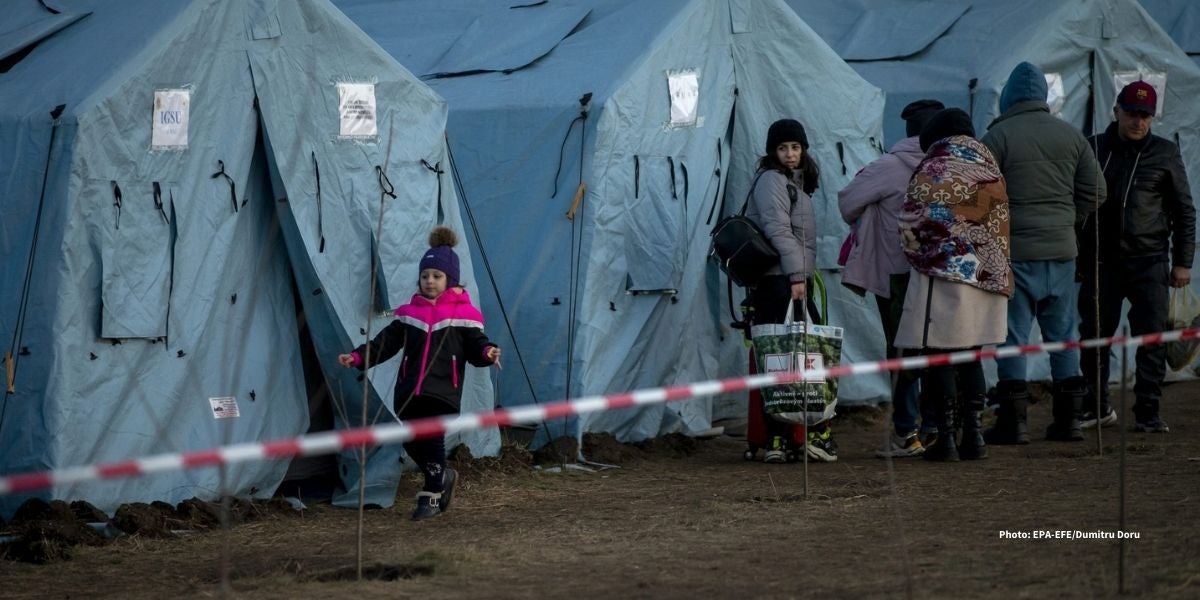 Ukraine: Special Update
More than 2.8 million people have now fled Ukraine because of the Russian invasion, with over 300,000 people from Ukraine crossing into Moldova—nearly 90% of whom are women with children, according to the United Nations (UN). Not only that but according to UNHCR, the UN Refugee Agency, more than a million refugees crossed borders into neighboring countries in the first week alone. Protection and support during this vulnerable period are vital, and as the situation continues to unfold, the number of people fleeing Ukraine may reach an estimated 4 million.
At the request of Moldovan authorities, World Hope International (WHI) quickly formed an aid alliance with partners Lift Non-Profit Logistics, MAP International, and The UPS Foundation to provide humanitarian relief in the form of $4 million in medical supplies for more than 300,000 Ukrainian adults and children currently seeking refuge in the border country of Moldova.
A second 747 aircraft left Chicago today, March 14th, carrying an additional $7 million in medical supplies donated to Moldova for refugees fleeing Ukraine.  This support was made possible by a partnership with Flexport.org, Airlink, World Hope International, LIFT Non-Profit Logistics, and Globus Relief.
This partnership came together to acquire over 220,000 lbs. of medical supplies that were specifically requested by the Moldova Ministry of Health to support over 300,000 refugees. With the support of Flexport.org, these supplies have been moved from Utah and airlifted via a Boeing 747 from Chicago to Amsterdam. 
"In these difficult times, Moldova is helping Ukrainian refugees with needed shelter and assistance. Given this context, we are highly appreciative of the efforts our American friends have put towards gathering an impressive amount of medical supplies. This support will be used and distributed by the Ministry of Health for the Ukrainian refugees in Moldova, and we are so thankful for it." 
After landing in Amsterdam, these supplies will be trucked by Flexport to Moldova. Fulfilling the Moldovan authorities request for medical supplies required multi-faceted project coordinators with experience managing complex supply chains. This partnership demanded specialized skills to find the requested supplies and move the requested supplies from Utah to Moldova via Chicago and Amsterdam.
As the tragic events unfolding in Ukraine continue to escalate, World Hope is continuing to look at ways to scale up our support, and we hope these efforts will make a large impact on those who receive these critical supplies.
A refugee camp near Palanca, about km from the Ukraine border, on March 4, 2022. Photo: EPA-EFE/Dumitru Doru
With millions fleeing across the borders and into the unknown, however, the risks for exploitation and trafficking run high.
As noted by the Migration Data Portal, "Humanitarian crises such as those associated with conflicts or natural disasters may exacerbate pre-existing trafficking trends and give rise to new ones. While some forms of trafficking could be a direct result of crises, such as exploitative sexual services demanded by armed groups or the forced recruitment of child soldiers, others are less evident, with traffickers thriving on the widespread human, material, social and economic losses caused by crises and the inability of families and communities to protect themselves and their children."
World Hope is getting reports of violence within shelters and obvious signs of trafficking at border crossings. Our protection team is actively working with community partners in Moldova, Poland, and Romania to address this secondary crisis. They are developing and preparing to launch a training for community members on protection, and specifically, how to identify abuse of all kinds—including trafficking; how and to whom to refer cases; how to respond; and ultimately how to do no harm as they are trying to help.
Haley Clark, World Hope's Director of Anti-Trafficking and Gender-Based Violence states that, "What we have is this massive group of vulnerable people made up primarily of women and children fleeing unaccompanied and often without potentially protective men with them. They are in immediate need of assistance and people in the bordering countries are stepping up to support them, but the challenge is not necessarily knowing who these people are. The people who are stepping up to support the refugees could actually be perpetrators, and helping communities know how to identify that and what to do in cases of abuse or exploitation is critical."