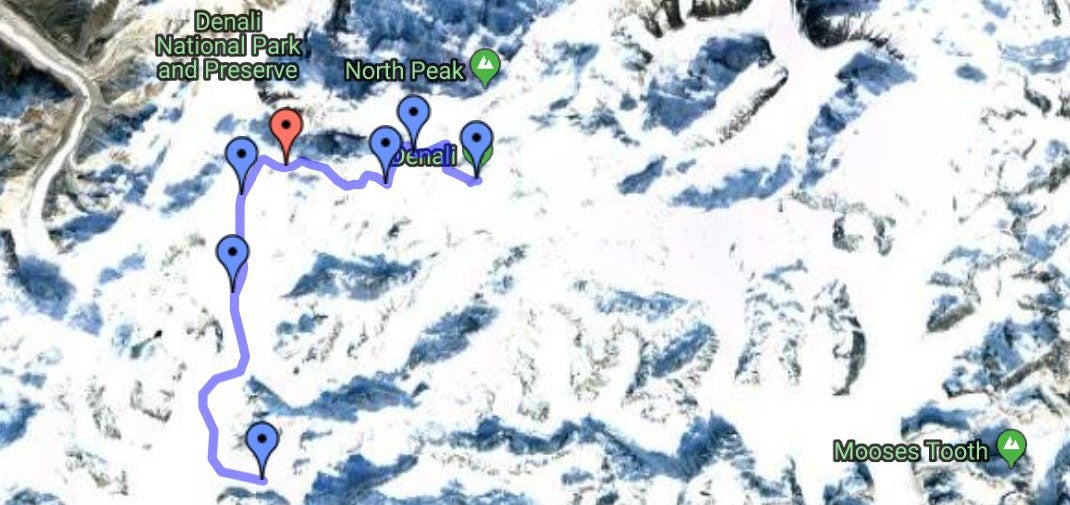 DAILY ROUTINES FROM DENALI CAMP 2
Hello from Denali Camp 2 (11,200′ | 3,414m)!! Ever wonder what a typical day looks like at Denali? I wanted to give you a glimpse into my daily routine at this point in the climb.  
We wake at reasonable times with a 20 minute warning to warm drinks and breakfast. The inside of the tent is covered in frost and dampness. I'm squished between two large guys in our tent and we fight for shoulder room throughout the night. I pretend their snoring is soothing otherwise I'd be annoyed. I sleep with all my electronics, wet socks, wet boot liners and my full pee bottle in my sleeping bag. If left out it freezes and that's not an option. I also sleep with my deodorant and sunscreen and those go on first thing when I wake. I pop birth control, iron, aspirin, probiotics and my Apsu superfood vitamins before I leave my sleeping bag.
Next up is to examine the foot. Burn and sanitize the needle and drain my blister. Sanitize again. A few layers of jackets go on and its breakfast. Hot cereal, tea, fig Newton type cookies are shared in the food tent. It's dug out of snow and topped with a tent. A plan for the day is laid out for the day and we disperse. Toilet time now if you're lucky. Then I spend another long while with tape and cushion pieces trying to protect the blister in my arch. Today I got creative and cut the end of my sleeping pad to fashion a lift inside my boot. I used it today and am pretty pleased with it actually. 
Then it's time to rope up with packs and sleds and head up or down, depending on the objective. We walked with 4 to a rope, 50 feet apart. Every hour or more we stop, keeping the same distance in case of crevasse falls, sit on our backpacks and dig water and snacks out or sleds. This continues throughout the day. As we move, we get pretty hot and sweaty from the exertion but when we stop, layers immediately go on. You can get very cold very fast when you're not moving. These points are good for reapplying sunscreen as well. The sun is strong reflecting off the snow. The loads are split in two now. So we're carrying around 60 or more pounds. This doesn't seem to have gotten easier though as the hills are steeper. Today was the last day with snowshoes and sleds. It's all heavy packs, crampons and ice axes from here out.
Every time we go to a new camp, everything has to be remade – flat snow platforms for tents. Dig out kitchens, toilets dug out. Designated sump holes and pee holes… a lot of snow flying for a while. Tents up and move on in. Foam mattress pads down. Air pads inflated. Personal gear stashed in tent with bags staying outside. Then a little down time while snow is melted for dinner. Throughout the day we eat and drink as much as you can. I drank about 1 gallon of water yesterday and it wasn't enough. Live and learn!!
After we settle in to tents we take time to take care for our feet. Incense burning hahaha! Tea tree oil and hand sanitizer with lavender seem to be the ticket, followed by baby powder, wool socks and camp slippers. We meet in the kitchen tent again for a hot drink before dinner and I like to have my Momentous endurance Red Shift protein recovery powder. Tastes just like hot chocolate and I know my body is grateful for the recovery fuel. Dinner has been a variety of pasta dishes or soups. Pretty simple up here! After dinner its back in the personal tent and renegotiating shoulder space. No space for stretching and yoga but while people napped today, I spent some solid time in the kitchen doing my designated stretches from Mike at Sailing Performance Training (SPT).  Personal maintenance is key in such a long expedition!   
Why do I climb? An estimated 2.1 billion people in the world are without access to safe drinking water, resulting in the death of more than 800 children each day. We don't think that is ok. 
Please consider donating to World Hope International and join us in #climbingforacause! 
~Sara on Denali, WHI Ambassador
Explore World Hope's work with water. You can also join Sara on a trip to Everest basecamp this Fall, Sept 30 – Oct 15! Learn more and sign up now!
This blog was written by Sara Hastreiter and is cross-posted from her website.