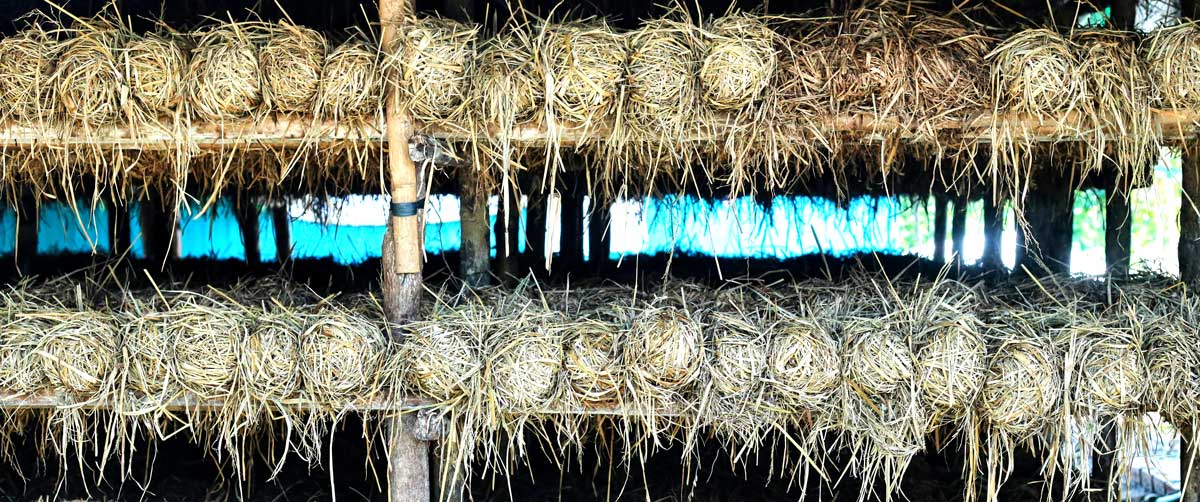 Harvesting Transformation through Mushrooms: A Story of Change
Meet CC-Mean, a woman in Cambodia who decided to invest in mushrooms through our Sister Community Development Program, better known as our Thera Metrey Mushroom Cultivation project. This is her story. 
"I got married when I was 19. Since we got married, our income came from rice farming. During the break time from farming my husband use to leave the house to do cutting woods in the forest in another province far from home. He stayed in that province for about a month or so then would come back home for few days then he would leave us again to cut the forest."
"There was a time when my husband was cheated by the employer and he came home without any money received as payment for his forest work. He also felt unsafe in that situation because his work was illegal. When my husband was not around it was so difficult for me some time, I felt afraid and unsafe alone with our children. I have 3 sons and 1 daughter. Son is 27-year-old, single, he is a military. Daughter is 24-year-old, got married, have 3 children. Son 20-year-old, single, he is a farmer. Youngest son is 16, study in grade 10."
"When my husband was away from home, I felt so worried. I was afraid of his safety or that he might get sick of malaria due to cutting down trees."
"I started my first mushroom house in January 2017. I decided to invest in growing mushroom. It was just like taking a big step for my family. Our family was so worried we might end up losing our money if mushroom production is not good. However, my mushroom production has been running well since we had our first harvest. I started my second mushroom house in mid-2018. Now I have two mushroom houses."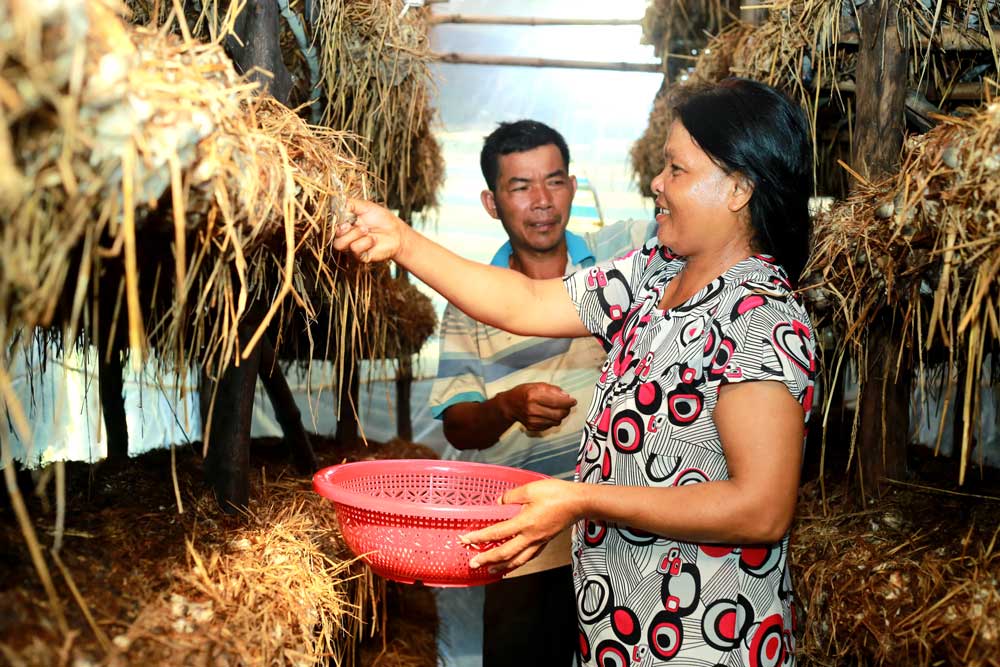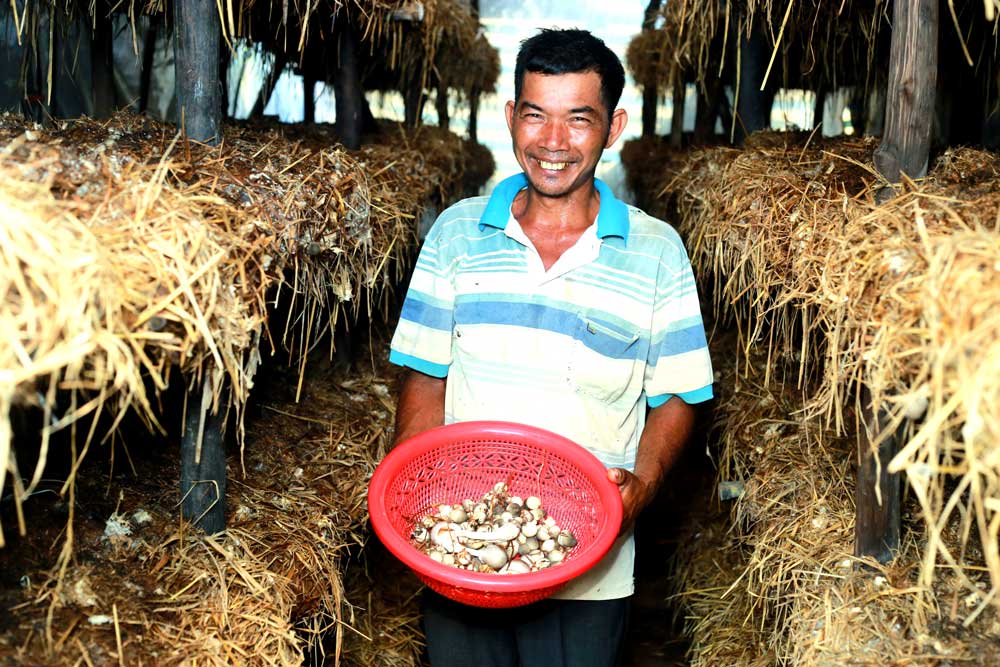 "Growing mushrooms can earn fast money. Our family can rely on this income to pay for our loan. My husband has stopped going to work in the forest outside our village. The money we earned from mushroom, we have used to buy more land for rice farming. We also have paid for the cost of drilling our own well so we have water at home and for our mushroom. I paid for our house renovation, paid for my son's educational expenses, and all our daily expenses are covered by our sales from mushroom. Our plan is to keep extending more mushroom houses.
"We are happier now than before because my whole family can live together, my husband can work at home and no need to go to the forest."
"Through this mushroom trade, I have seen that my community has changed a lot, people in my village can have better family livelihood, even non-mushroom grower can also earn money from selling raw materials. There are now more shops and small businesses in my village because people here can afford to buy more things or goods or foodstuff for their families."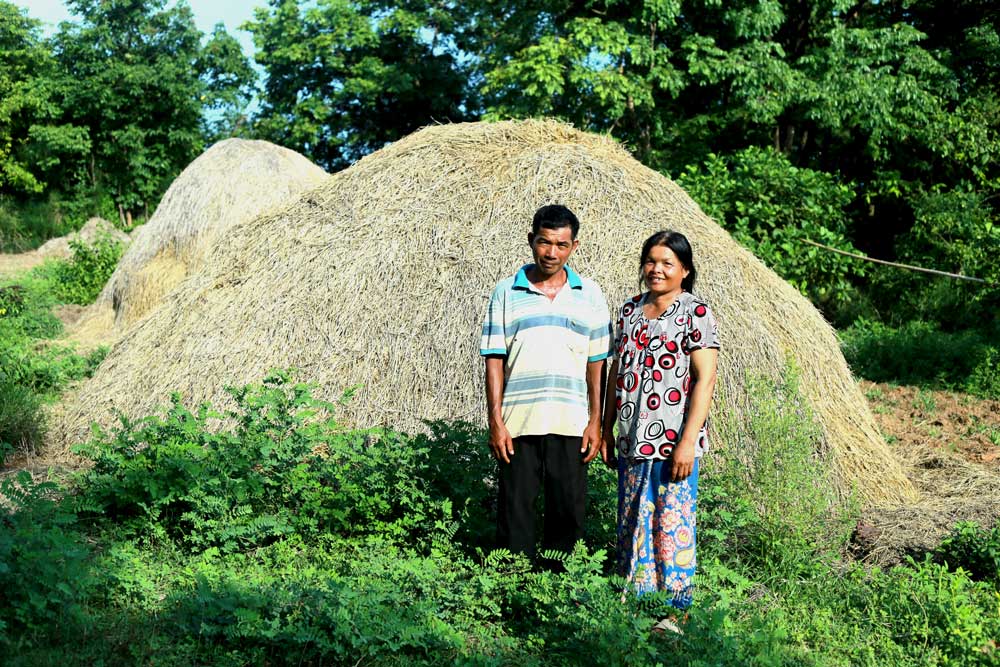 "People in our area have recently started to come back home from other provinces because they can now have work in our community and can earn money while being at their homes."
"My biggest hope on this mushroom growing is having a market to sell and I can have reliable and regular income.''