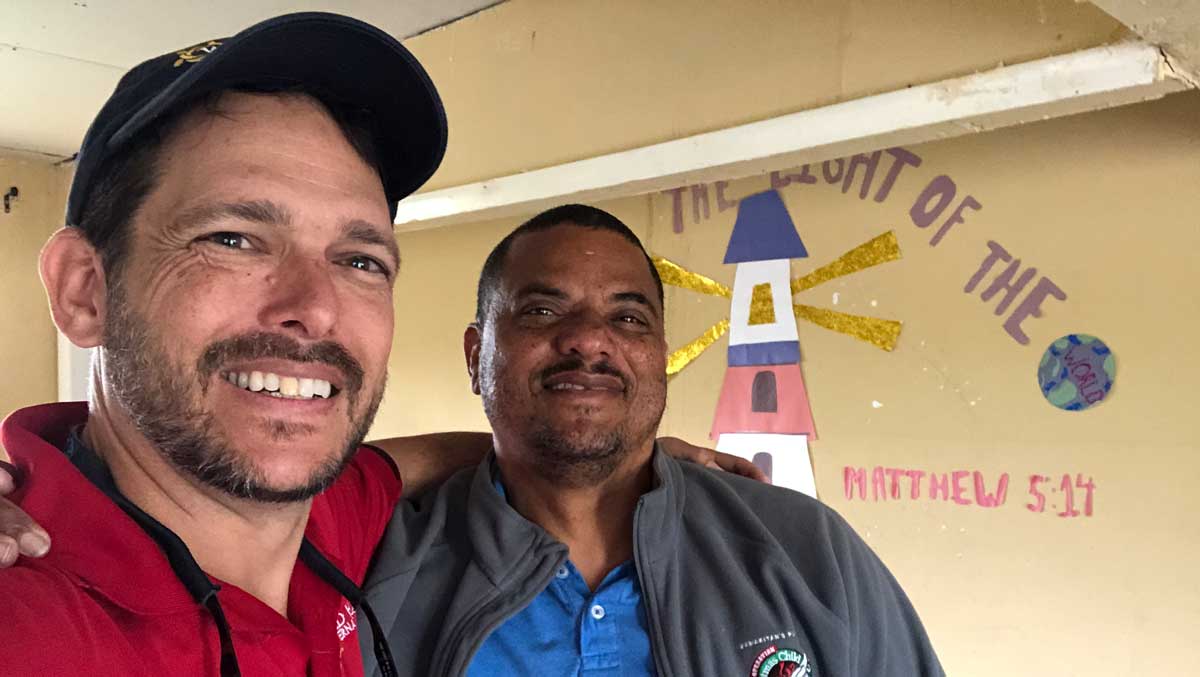 Rebuilding in the Bahamas, Starting with the Church
Hurricane Dorian destroyed Pastor Raymond's home and wiped out decades of work. But it's not the end of the story.
Pastor Raymond leads Lighthouse Wesleyan Outreach Ministry, serving the small, largely underserved 8-Mile Rock community outside of Freeport in the Bahamas. He was an assistant pastor at another, more-established Wesleyan church in the area before feeling that God called him to branch out and serve this community over a year ago.
He and his wife have put their hearts, souls and backs into building a worship site to serve that neighborhood, as well as doing the slow, steady work required to build trust within the community. He conducts this ministry while also running his own cleaning business. His wife teaches.
"Our vision for Lighthouse Outreach Ministries is to be a light in our community, to be a life transformation ministry, to see souls come to know Christ Jesus, allowing people to be equipped in their faith and in the Word of God," Pastor Raymond shared with Kris Meyer, chief operating officer of World Hope International (WHI). "Reaching the whole man for Jesus Christ, whether physical, spiritual or social, for the kingdom of God and for his glory."
Unfortunately, when Hurricane Dorian came through, it literally wiped out decades of their work. Their house of 15 years, which remains mortgaged, was completely destroyed. Worse than that, because of previous storms, no insurer would cover the neighborhood where they lived so the property lacked any insurance.
The islands of Grand Bahama, Abaco and the surrounding cays are struggling. The scope of the devastation both in Pastor Raymond's community and beyond is immense — and it will take years to recover.
The sea water almost completely inundated not only Pastor Raymond's house but also his cleaning equipment, adding even more to his burden. And yet still, while he and his family stay as guests of friends for the weeks since the storm, trying to rebuild their lives, he continues to put in the work to keep Lighthouse Wesleyan open.
They have reshingled the church roof and hung ceiling panels to get the electricity back on. They still open the doors every Sunday, and they still do what they need to show the community of 8-Mile Rock that they are there, offering hope, healing and salvation in the midst of all their own ongoing struggles.
"After Hurricane Dorian, we know many people have lost their homes and need lots of repairs to be done, many have lost their jobs and the unemployment rate in Grand Bahama is at 50 percent right now," said Pastor Raymond. "The great thing about it though — many people are still steadfast and coming to church, growing in faith and standing strong. No matter the condition of their home or the condition of our church, many people are still coming to receive the Word of God."
That's why, when WHI was approached by The Wesleyan Church's Florida District leadership about supporting two Wesleyan churches on Grand Bahama Island that were damaged in the storm (as well as one of the pastor's homes), WHI leadership said yes.
Meyer spent several days in early December down in the islands meeting Pastor Raymond and identifying what exactly this reconstruction program will look like — where WHI would work, how they would resource supplies and what logistics would be required to support volunteers… Read the full story to learn more & find out how to volunteer