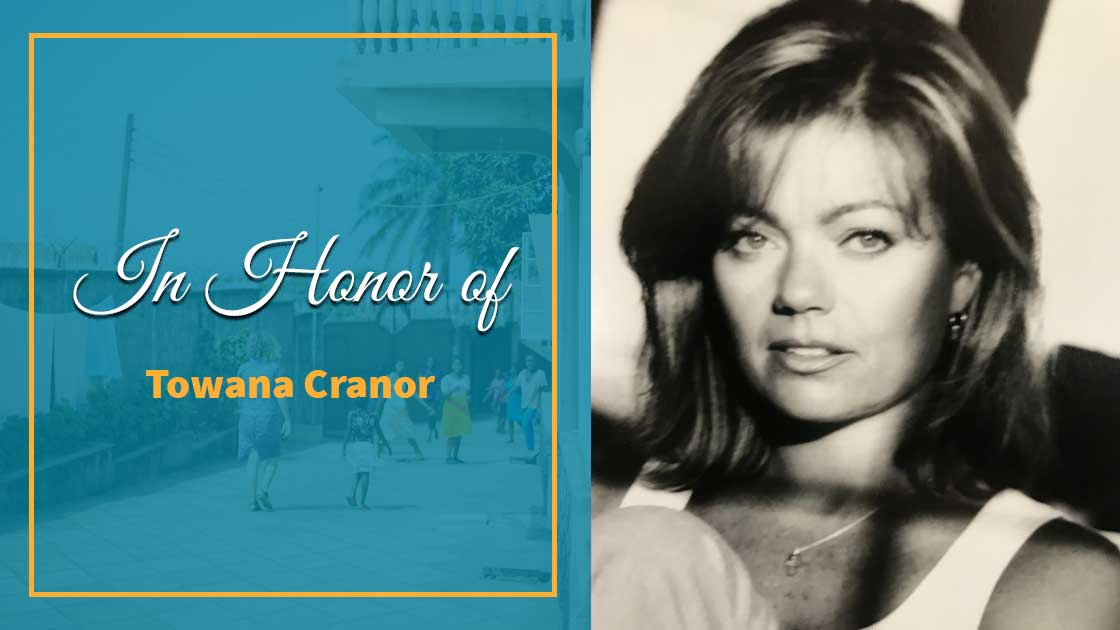 Naming "Towana's House"
Wednesday, May 20th
World Hope International is pleased to name the home in our Sierra Leone Recovery Centre for Towana Cranor, a life-long friend, supporter and volunteer for World Hope International (WHI), who passed away on Friday, May 15, 2020.
To honor Towana's passion to fight human trafficking, the family has requested memorial gifts to WHI to establish and support "Towana's House" at the Trafficking in Persons (TIP) Survivor Centre in Sierra Leone. The Centre serves survivors of human trafficking and exploitation with comprehensive and confidential services… keep reading
"My heart was thrilled when I heard that funds would be available to continue operating the TIP Recovery Centre. It is such a vital part of bringing restoration to survivors of human trafficking. God is answering our prayers. I have lovely memories of the time with her and her family. My deepest sympathy to her family and loved ones."
"I think it's an answer to prayers for the Recovery Centre to continue to get support. I also think it's encouraging to know that there are people out there who appreciate what WHI is doing to bring hope to the world."
"Her joy, her laughter and her generous heart blessed everyone she met. I'm heartbroken she is gone for now, but rejoicing she is fully alive in the presence of her Lord Jesus. 'See you on the other side, Towana!'"
"As a therapist and abolitionist myself, it's inspiring to see another woman in my field, who was deeply committed to these causes in her life, continue to offer healing and hope, even after death. I know that the women and children who are cared for in the future at Towana's House will be encouraged, and helped to heal, with the knowledge that they are seen and not forgotten. Towana will not be forgotten either."
The Recovery Centre addresses a critical need in Sierra Leone, acting as the ONLY service provider serving victims of trafficking and gender-based violence with confidential and holistic care. Our expert local teams work tirelessly to show affection and provide education and training, ultimately promising care and respect for the individuals and communities with whom we work. Staff work hard on reintegration in order to keep stays short—and each survivor is cared for according to their individual needs. Each survivor is served with WHI's specialized tools, the TIP Assessment Tool, the Clinical Care Assessment Tool and the Post-Reintegration Assessment Tool. These tools help to determine reintegration readiness, as well as post-reintegration safety and stability.
Towana traveled to Pakistan as a volunteer for World Hope Int'l (WHI) in 1996 to help launch the "Hope for Children" program. She continued to support WHI programs through awareness and fundraising, especially for clean water and anti-human trafficking. As a member of the Indiana Anti-Trafficking Task Force, she provided counseling for local victims.
She believed and lived out, "A loving God wants to redeem a broken world and we have been called to 'make things new'."(NTWright). Naming the home for survivors at the Recovery Centre in Towana's honor will carry on her legacy and will continue to "make things new" for many generations to come in Sierra Leone.