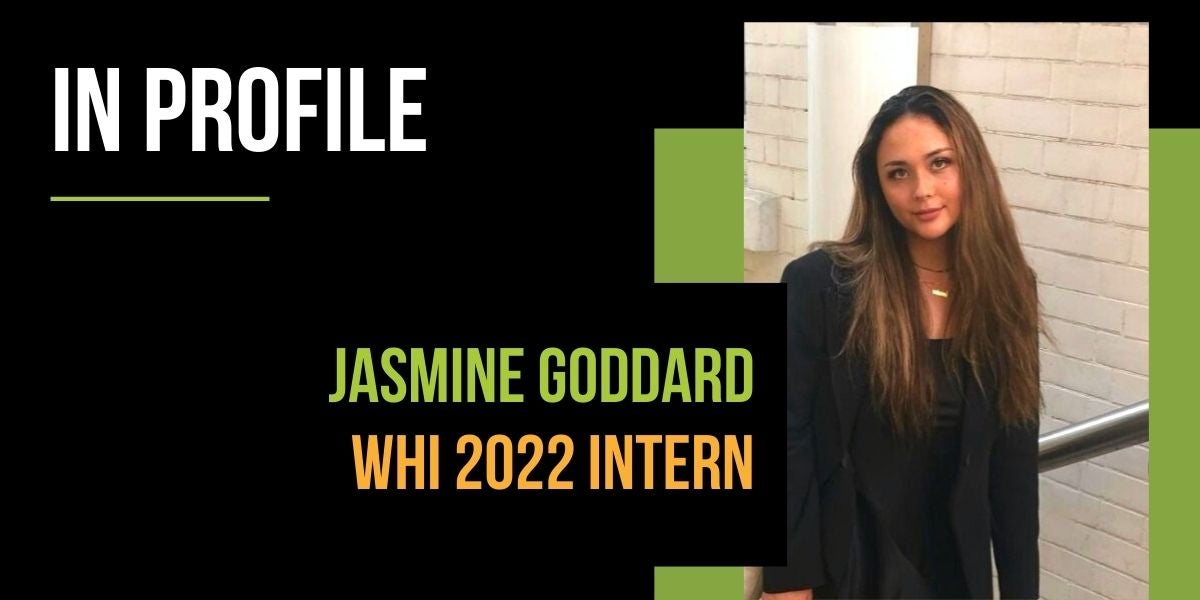 Meet Jasmine, our Sports for Development Intern
Meet intern Jasmine Goddard! Jasmine is interning in the World Hope-Cambodia, Sports for Development Program, volunteering to manage and train the interns regarding the sports after-school program.
After completing her Bachelor's degree in the UK in 2021, Jasmine returned home to Southeast Asia to give back through volunteering in the area that has become her passion – and her expertise.
Keep reading to learn more about Jasmine!
How did you first get connected to WHI? What made you look into interning with us?
"Through family and friends I was connected to the organization, I did some volunteer/intern working with developing the sports manual for Cambodia years back, then after graduating became a volunteer for several months."
Out of the many types of projects WHI is involved in, which do you feel the most passionate about?
Education
Bachelors of Science in Sports Exercise & Health at Loughborough University, UK
Where I call home
Phnom Penh, Cambodia. However, having grown up in more than one South-East Asian country, I'd say South East Asia in general.
About me
I am…optimistic, driven, empathetic, calm, encouraging.
Fun fact
I used to be part of the school swim team and was scouted by my coach who took me in to train in a club, he showed me traditional Filipino sports and got me into coaching, and since then I've been coaching ever since even if it's not the same sport.
Some of my favorite things
"The after-school program (including the arts, sports, English and digital literacy, Jahoo) as this is one of the sources which encourage children to attend school, by reaching out to them at a young age there is huge potential to encourage good habits and help raise awareness or develop transferable life skills that can be beneficial to them and their futures."
What is your internship focused on and what have you been learning in that role so far? 
"My role currently focuses on developing the sports after school program in Mondulkiri, especially as it is a new and upcoming project I've been focusing on setting up more of the groundwork such as equipment, setting in sports sessions, coaching the interns and teachers, planning friendship games and just getting more children engaged."
What are you hoping to learn and accomplish during your internship?
"One of my main hopes was to find some purpose with the knowledge and skill I have, and to feel like it could be used in a more impactful way but also to generate an exciting, inclusive yet super encouraging way of bringing children into schools and having the interns/coaches find joy and creativity with their sport training sessions."
How does this internship fit into your long-term or short-term career goals?
"Being involved the health/fitness/sports industry, this experience has been a great way of incorporating and aligning it with an organization and focusing on development. It's allowed me to see the sides of my own work habits and skills that I've enjoyed, and the ones I realize I would like to either improve on or don't find as fulfilling. I'm still figuring out what long-term career goals look like, but this WHI experience has been a great, welcoming, and purposeful first step out of university."
What challenges or growth have you experienced while interning remotely during the threat of COVID-19?
"Many difficulties with planning sports events were delayed or pushed back due to Covid. It created a lot of time setbacks; however, it has allowed myself and many others to think of other ways which we can still achieve goals."
We partner with students at accredited colleges and universities to connect their talents, passions, and education to internship opportunities in our office located in Alexandria, Virginia.
Click here for more information and email info@wordhope.org to apply for current internship opportunities.