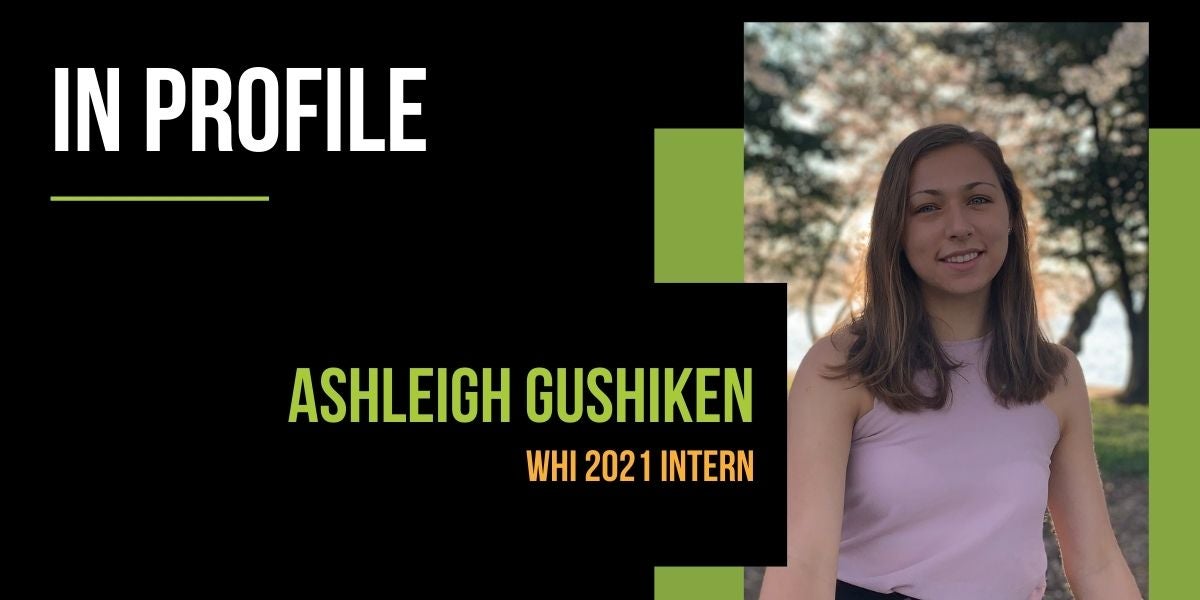 Summer 2021 Intern: Ashleigh Gushiken
Meet intern Ashleigh Gushiken! Ashleigh is interning in the Communications and Marketing Department of the World Hope Global Alliance, based in the Washington D.C. area. 
A rising Junior at George Washington University, Ashleigh started her internship working remotely and now, with COVID-19 restrictions lifting, has joined WHI staff at our office. In her role as the Advocacy and Outreach Intern, Asheligh has jumped into not only learning how WHI and other NGOs work, but to figuring out how to communicate around that and invite others into the work.
She developing a "playbook" for college chapters to use and is also focusing her efforts and learning in an area of particular interest to her; mitigating human trafficking.
Keep reading to learn more about Ashleigh and see what she is doing!
How did you first get connected to WHI? What made you look into interning with us?
"I first heard of World Hope International through my affiliation with International Justice Mission. I am passionate about ending human trafficking, and I wanted to work for an organization that was dedicated to ending poverty and modern slavery. I admired World Hope International's holistic approach to combating disease, poverty, and trafficking. I wanted to work for the organization because I admired their dedication to ethics, their global mission, and their genuine desire to live out Biblical truths, such as caring for impoverished communities."
Education
Double Major in International Affairs and Economics with a Minor in Spanish at George Washington University, Graduating 2023
About me
I am…positive, encouraging, driven, and competitive
Fun fact
For my 20th birthday, I ran a full marathon around Washington DC. I ran the marathon in 4.5 hours.
Some of my favorite things
My favorite activity is going on car drives while listening to my favorite music and singing with my friends.
Out of the many types of projects WHI is involved in, which do you feel the most passionate about?
"I am most passionate about the We Are The Village Child Sponsorship Campaign. I know that a child's ability to get a good education is both empowering and instrumental in lowering their risk of being trafficked. It is beautiful to see the excitement that these kids have when they are sponsored. I know that providing an education for these children will have an incredible impact on their communities."
What is your internship focused on and what have you been learning in that role so far? 
"My internship is focused on creating resources for college students and community members to be able to advocate on their campuses and in their neighborhoods. I create informational materials, guides, and social media resources for advocates to be able to effectively raise awareness and fundraise on behalf of World Hope International. I am also tasked with assisting other staff members on panel events and advocacy campaigns. Thus far, I have become much more familiar with graphic design. My role requires me to create infographics, posters, social media posts, etc. These projects have given me experience with Canva and Mailchimp. My knowledge of event planning has also grown exponentially. I have learned about what is required to launch an international email campaign and to organize a panel event."
What are you hoping to learn and accomplish during your internship?
"I am hoping to learn about what is required to coordinate a fundraiser as well as how to track the effectiveness of campaigns through the use of google analytics. I am hoping to plan and execute a panel event to raise awareness about human trafficking. I am also hoping to launch a college chapter campaign and continue to get college students involved with World Hope International."
How does this internship fit into your long-term or short-term career goals?
"My internship is giving me experience working for an NGO. I am learning about the different strategies organizations employ to compact poverty around the world, and to assist members of impoverished communities. I am also learning about what is required to effectively advocate and fundraise on behalf of an international organization. This experience fits into my desire to work for an NGO in the future that is dedicated to international development. I want to work with small businesses around the world to provide them with the funds and resources that they need to thrive and grow their community's economy."
What challenges or growth have you experienced while interning remotely during the threat of COVID-19?
"COVID-19 initially made the internship difficult because I could not come into the office. For the first few weeks, I felt disconnected from the rest of my team. However, as restrictions were lifted I was able to come into the office and become better acquainted with my coworkers."
We partner with students at accredited colleges and universities to connect their talents, passions, and education to internship opportunities in our office located in Alexandria, Virginia.
Click here for more information and email info@wordhope.org to apply for current internship opportunities.