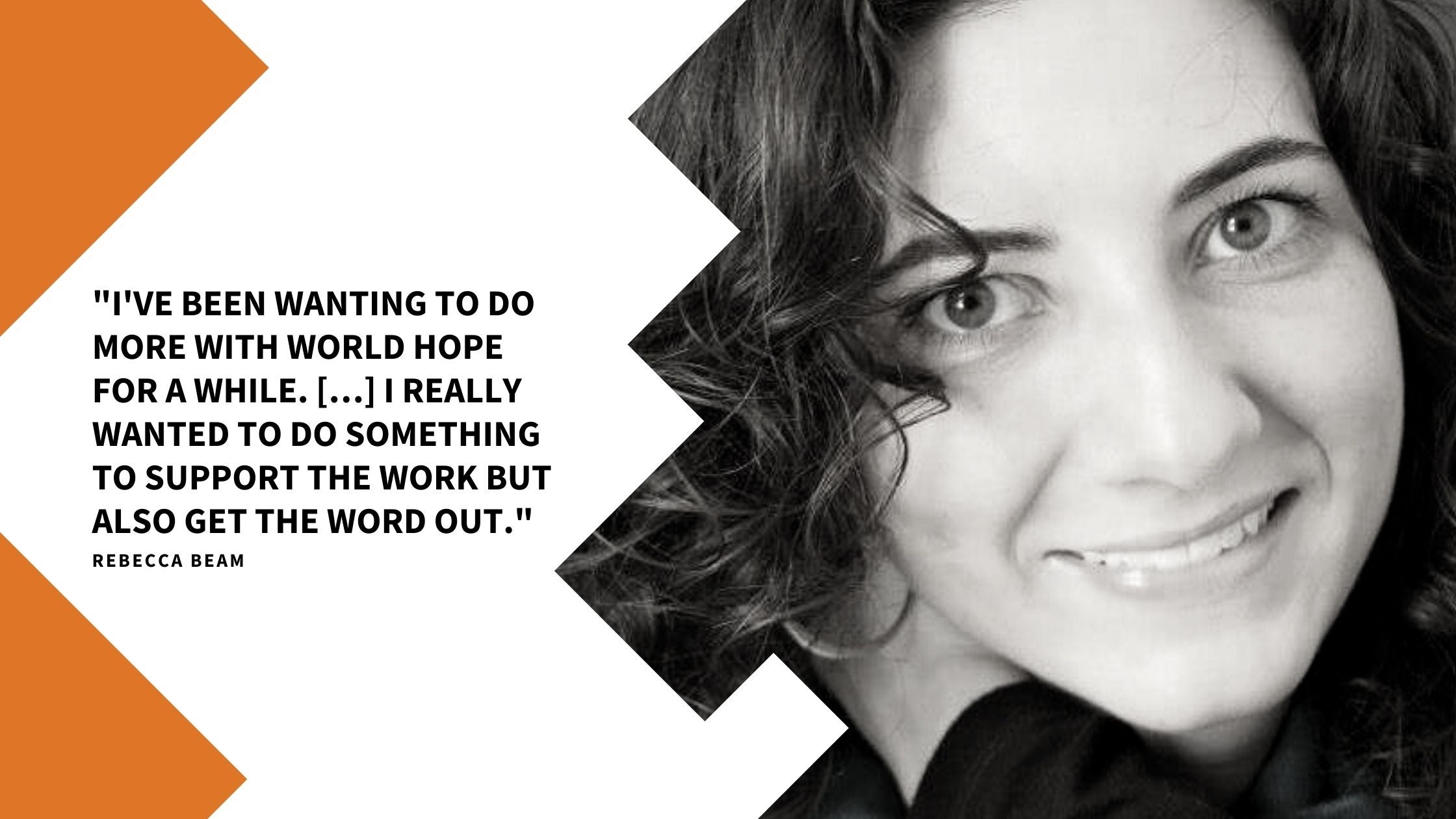 Why Rebecca Walks 4 Hope
Rebecca (Becca) Beam grew up in Winston-Salem, NC where she currently works at a local credit union. She has three wonderful nieces and has been involved in the Wesleyan Church her whole life. It was the Wesleyan Church that brought her to knowing Jo Anne Lyon and World Hope International (WHI) and becoming a faithful donor for many years.
Becca's grandparents met Jo Anne and her husband Wayne in the 1960s when Wayne was pastoring a church in Kansas City, MO, before Jo Anne had become ordained. Becca's grandparents and the Lyons became close family friends and subsequently, Becca would become friends as well years later. WHI was founded in 1996 and Becca gave her first gift just a few years later in 2002.
This year, Becca has decided to participate in WHI's Walk 4 Hope. As of April 22, she was halfway through her walking goal (30 miles) and had already hit her fundraising goal of $1,000.
"It was a no-brainer for me," Becca stated. "I've been wanting to do more with World Hope for a while. […] I really wanted to do something to support the work but also get the word out."
This is not her first time helping raise funds for WHI through a walking fundraising event. Becca has donated since the late 2000s to the Larry McAlpine Hoover Walk (then called the Hoover Walk), an annual walk in Winston-Salem headed up by Larry McAlpine, who passed away in 2017, and Pamela McAlpine. The gifts raised from that Walk go to support clean water wells with WHI. However, this year with the Walk 4 Hope is the first time Becca has incorporated walking herself with fundraising.
Becca's desire to be more involved with WHI came after she went with Jo Anne Lyon on a trip to Sierra Leone in 2019. It was a vision trip intended primarily for Wesleyan pastors, but Jo Anne and Becca had met up while both visiting the walkers of the Hoover Walk and Jo Anne invited Becca on the pastor trip to see all the work WHI does in Sierra Leone. 
"I was impressed and overwhelmed," Becca said about the trip. "I love the heart of the people there and how committed they are to doing the work of the Church."
While on that trip, Becca met Christopher, a child in the Enable the Children program. She says that from the moment she saw him, she knew she wanted to sponsor him and help as much as possible. Despite already having been a sponsor with WHI since 2008, and having plans to volunteer with the sponsorship team, her special connection with Christopher led her to sponsor him as well.
Becca finishes Walk 4 Hope with everyone on April 30, but she will continue to support WHI through sponsorship and the Larry McAlpine Hoover Walk and encourages others to find their own way of supporting as well.
"I hope that people learn about the needs in the world and are reminded about how we have a responsibility, being so blessed, to share our resources in the name of Jesus and […] do something for those less fortunate."