Help us bring Hope & Health to Haiti
The first step of this campaign is to raise $100,000, and a generous friend of World Hope has set up a $50,000 match. All gifts will be matched dollar for dollar, up to $50,000, to help us hit the mark. Give now, double your impact, and help bring Hope & Health to Haiti.
Phase 1 Goal: $3.5 Million
The La Gonâve Wesleyen Hospital has been operating as the sole hospital on "the forgotten" Haitian island of La Gonâve since its founding. This year, the little hospital was able to deploy two medical teams and resources to the Haitian mainland to provide life-saving care for survivors of the terrible August 14, 2021 earthquake while still continuing operations as usual.
Now, World Hope International is partnering with Build Health International to improve the hospital's capacity to serve the local – and national – population. The first phase of this campaign will focus on new and improved facilities, support systems, human resources, and vital resources.
The first $50,000 that comes in towards the goal by December 31, 2021, will be matched to double the impact!
With your support, we can continue to build health and hope in Haiti.
While the hospital now has access to reliable power through the Tesla unit we recently installed and receives clean water through the GivePower Solar Water Farm, the facilities and infrastructure are in need of critical updates. Not only that, but these updates will provide vital resources for Haitians and expand the capacity of the hospital to better meet the needs within the island's greater community–as well as put the hospital on the track to a sustainable future.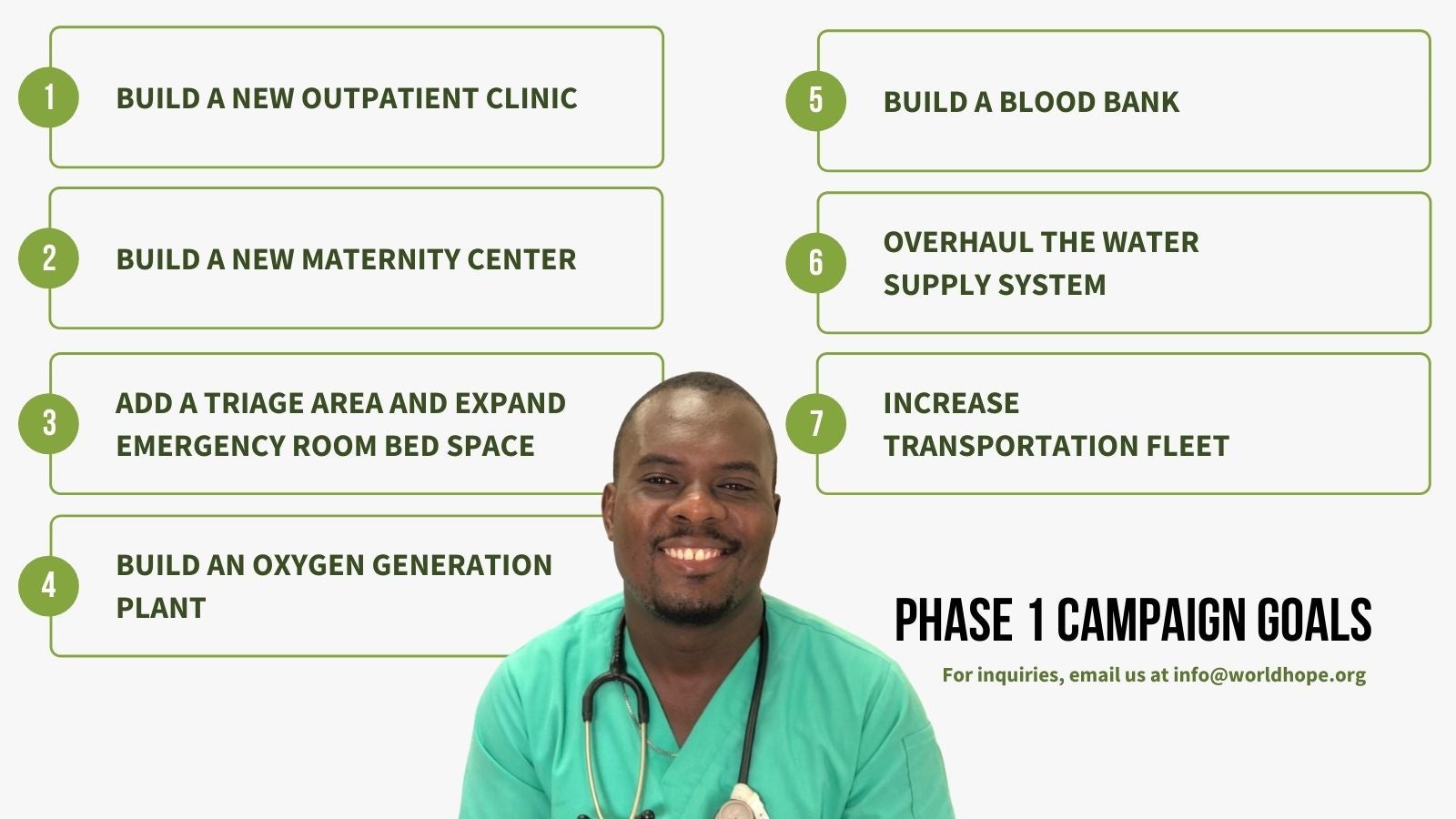 Phase 1 Goals
Explore the 7 primary elements of Phase 1 that will improve the hospital's facilities, infrastructure, and vital resources.
Build a New Outpatient Clinic
Build a New Maternity Center
Add a Triage Area & Expand ER Bed Space
Build an O2 Generation Plant
Build a Blood Bank
Overhaul the Water Supply System
Increase Transportation Fleet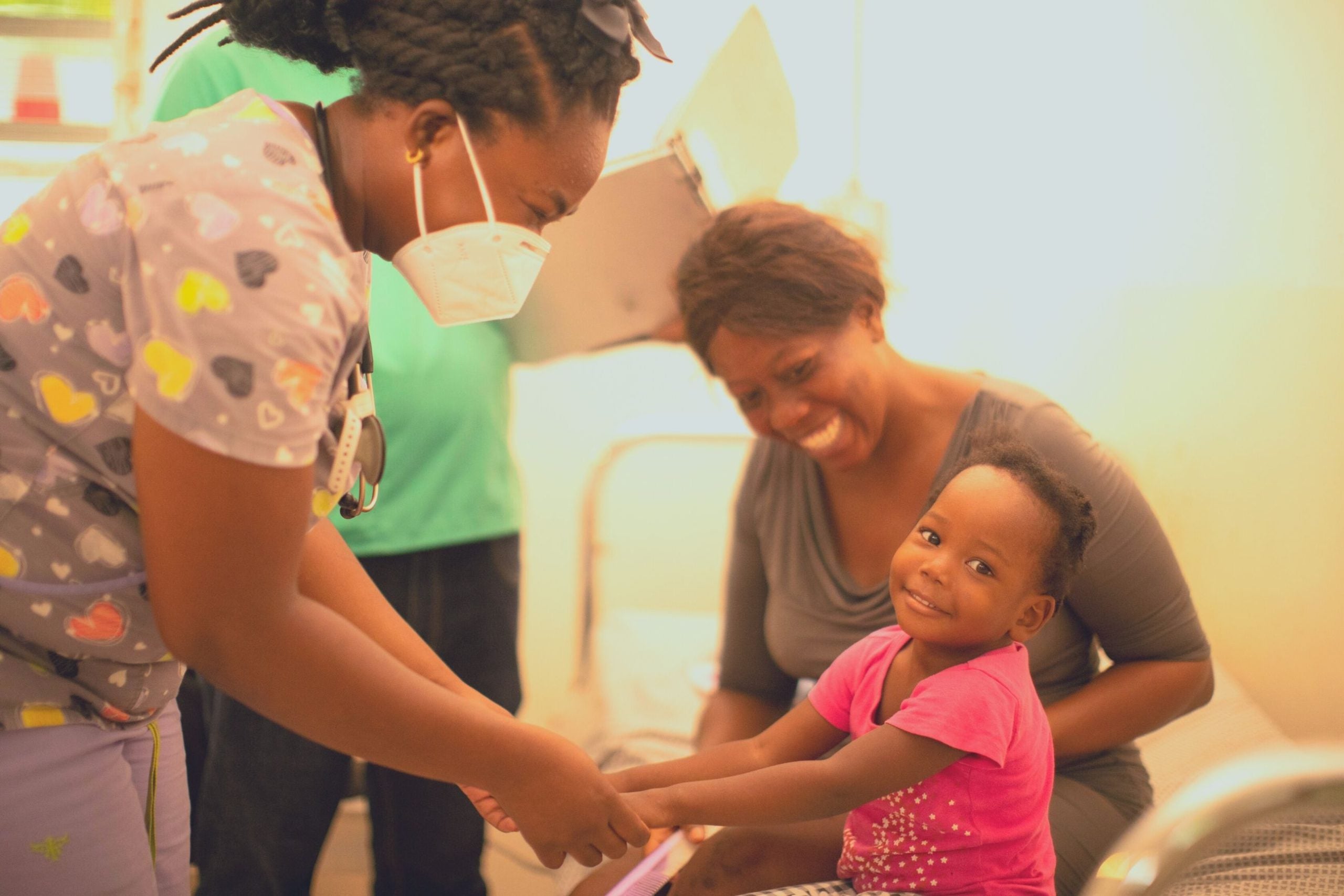 This important improvement to the hospital facility will include:
Waiting Area
Vitals
Phlebotomy
Staff Break Room
Storage
Ultrasound
18 Exam Rooms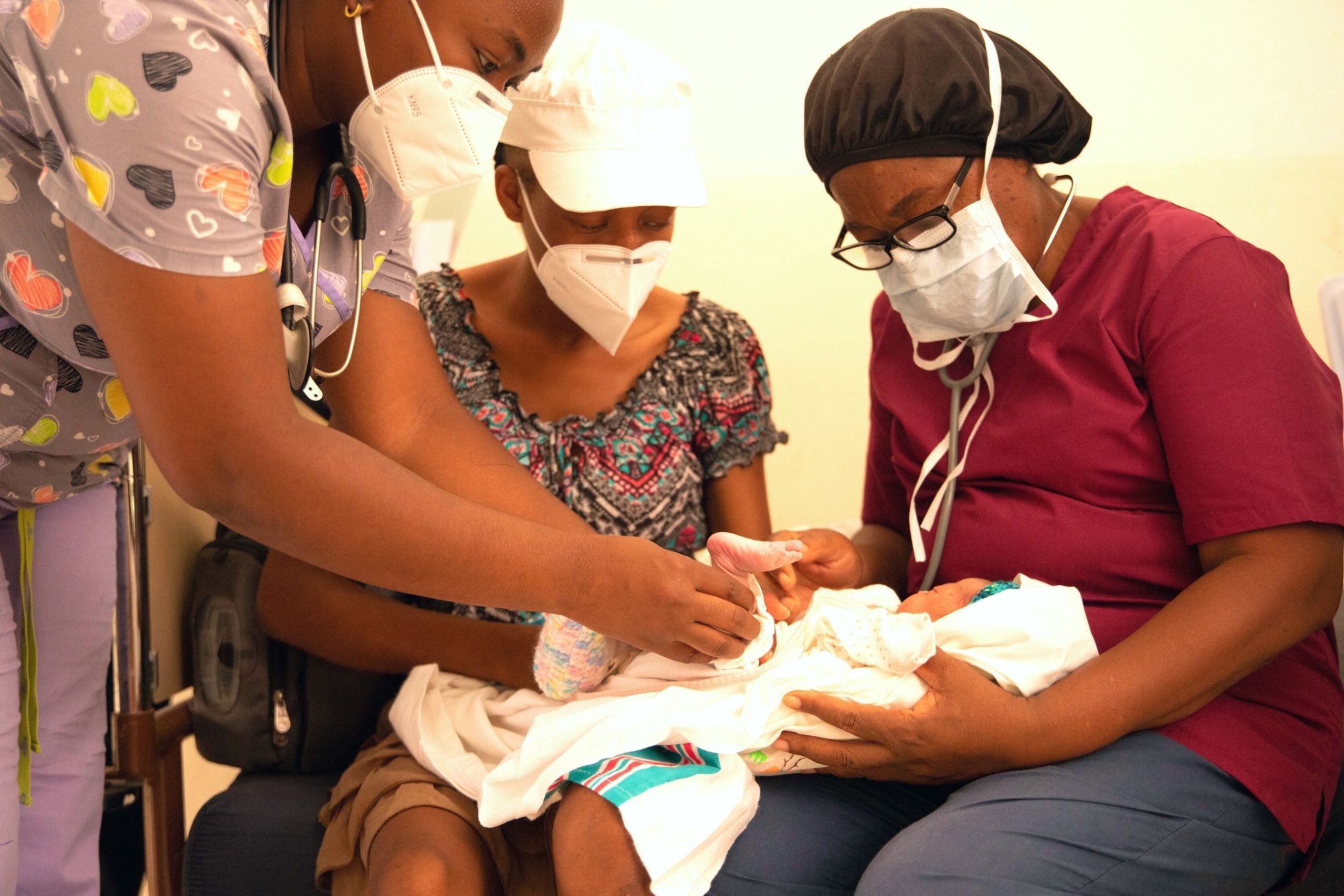 An important step up for the hospital from the single, 4-bed birthing room and to improving infant and maternal mortality rates, the new maternity center will feature Triage, Antenatal, Postnatal, Labor & Delivery, and designated NICU.
The new center would also include 20-30 maternity beds, as well as designated isolation rooms for maternity patients with infectious diseases.
This project involves adding a triage area and expanding bed space in the Emergency Department. Part of these improvements are adding
Triage
Isolation room
Trauma space
Patient beds
Family consulting room
As well as a designated ambulance entrance with a trauma area for critical cases, six bed spaces will be available for observation and there will be a designated isolation room for patients with infectious diseases.
Oxygen has to be flown or shipped to the island of La Gonâve from the Haitian mainland, and that means weather-related or other delays can cause a shortage crisis for patients needing this critical resource.
This new Oxygen Generation Plant will include a Pressure Swing Absorption (PSA) filling station, allow for low-pressure distribution via a manifold, and oxygen tanks to support NICU and ICU patients.
Another critical resource at the hospital is the availability of emergency blood supply. That's why one part of this project will facilitate building a blood bank for the hospital, including the space and equipment to store and properly test the emergency blood supply.
While the hospital no longer uses brackish water since receiving clean water from the GivePower Solar Water Farm on the island, the water infrastructure of the hospital needs an overhaul in order to have the GivePower water line expand to the entire hospital campus. This infrastructure renovation will include building. a cistern on the north side of the hospital campus to gravity feed buildings from the stored supply.
Transportation
Two new vehicles are needed for the hospital; one is an ambulance to serve the Anse-à-Galets community and the other is a vehicle that will be used on the mainland in Port-au-Prince for administrative work.
Our Commitment
Since assuming leadership at the hospital with board control, World Hope International (WHI) made a commitment through CCIH's 30×30 Health Systems Initiative to strengthen access to essential medicines and supplies, financing, health information systems, health workforce, leadership and governance, service delivery, and community services at La Gonâve Wesleyan Hospital in Haiti. This campaign and Phase 1 updates to the hospital's facilities, infrastructure, and resources will help make it possible.
In Partnership
World Hope International will continue to partner with Build Health International to facilitate and implement the strategic updates to La Gonâve Wesleyen Hospital being financed by this campaign, ensuring that the hospital can continue to build quality health and real hope to the community and the larger island nation.