Off To Everest, Climbing For A Cause
After months of preparation, fundraising, and training, our Climbing For A Cause team heads out this weekend to Nepal. 
If you could do something tangible about the lack of access to clean water, would you? 
Would you do it if it meant trekking to the basecamp of Mt. Everest—a journey of 16+ days and including lots of climbing, possible altitude sickness, crossing suspension bridges, flying onto tiny airstrips wedged high on the mountainside, and many unknowns?
This is the question that World Hope International posed at the beginning of 2019.
Many have considered it. Several wanted to go but could not make the time commitment, a number have signed up, and only three have made it to the point of no return—and these three are flying out for Nepal this weekend.
The team will be led by professional sailor and adventurer, Sara Hastreiter, who has a goal to become the first woman in history to achieve both sailing the seven seas and climbing the highest peak on each continent. Earlier this year, she made an attempt to summit Denali, getting only 1,000ft from the top before making the painful decision to turn back and live to try another day.
Now, Sara leads this bold trio to the basecamp of Everest. The three have been raising funds all year long to support World Hope International's clean water projects, challenging themselves to not only meet the $5,000 that participants have been asked to raise in order to join the climb, but to exceed it.
They have also been training hard in order to prepare for the challenging ascent, practicing hiking and strength building over the past few months.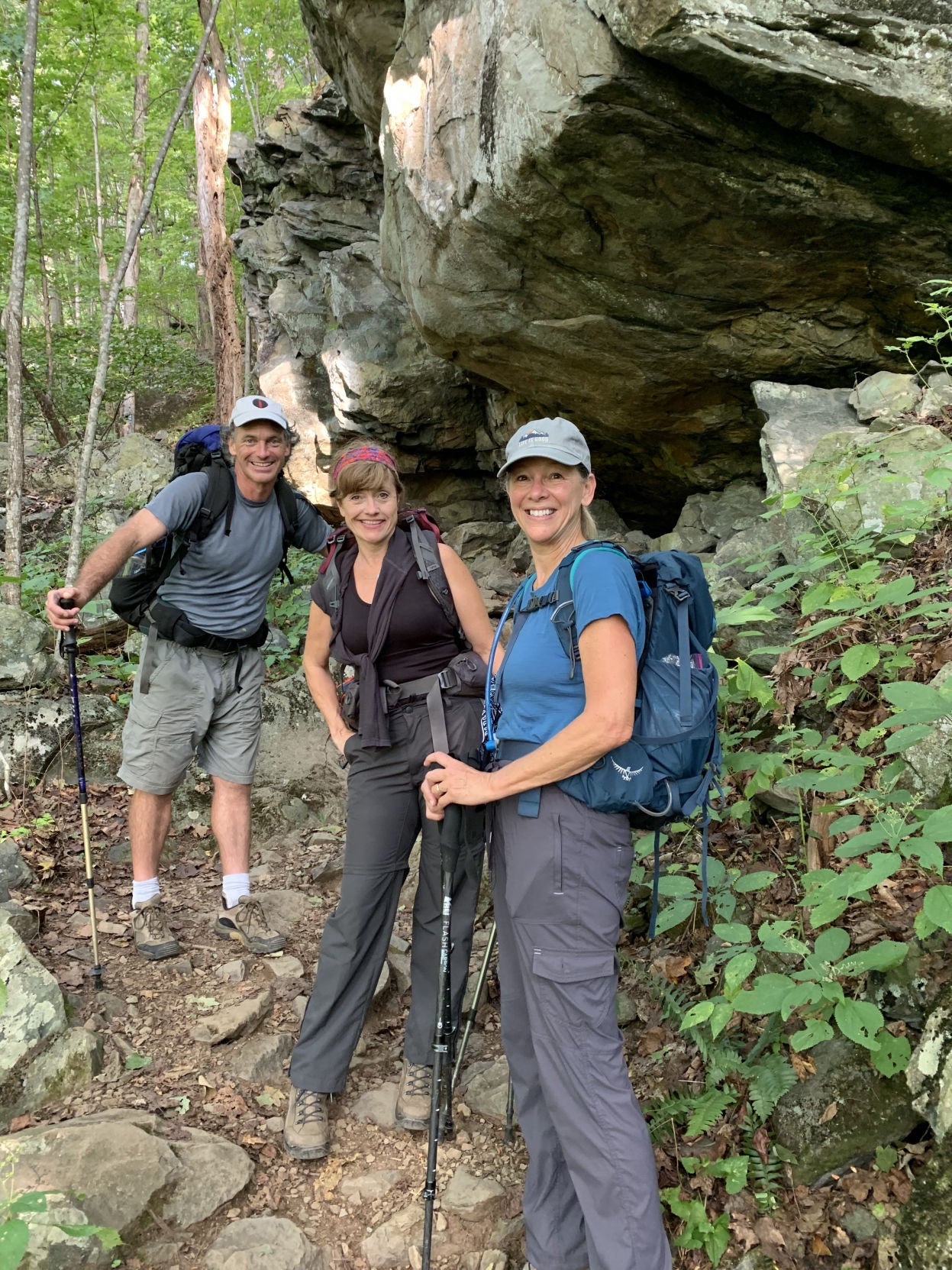 Monica, Mike, and Marianne on a practice hike together as they trained for the trek. 
"As my legs grow tired while hiking each week and my feet begin to throb, I remember how this event will empower women and girls around the world whose lives are disproportionately impacted by a lack of clean water accessibility," reflects Monica Fernandi, who willl be making the trek along with her husband, Mike.  "They are typically the ones responsible for getting water for cooking, which can take hours on foot to gather. It is far from their village, laden with parasites and often times they are at serious risk of violence or death. We have no idea the length at which they go to simply provide a life- sustaining element. My four to seven hours of hiking a day is the least I can do to support those without clean water."
"We as the developed world can do more, and that is why I've partnered with World Hope International."
Monica and her husband were introduced to the trek by Marianne Clyde, who has gone on trips with World Hope in the past, too.
"I have been traveling with World Hope International for about 20 years," Marianne shared, "ever since that first phone call from JoAnne Lyon about a great need in Sierra Leone, and have literally trusted them with my life! It's why I've chosen to go on this great adventure with them to Mt. Everest Base Camp raising money and awareness about the great need for their life saving clean water projects around the world."
When contemplating the arduous nature of the trek, Marianne commented, "Yes, it's a bit scary, since I battle with a fear of heights and am concerned about high altitude sickness, but I am prepared as I can be. These small concerns help me identify a bit with women and girls who must travel sometimes many miles in some pretty scary situations to obtain water for their families. Sometimes this takes their entire day, every day, and that water is not even safe to drink, causing concern about water-borne illnesses and child mortality."
"While I have my iodine tablets and water filter, they have none of that," she continued. "While I am traveling with a group with a plan and escorts, they do not have that either. While my trek is about 2 weeks, theirs is a daily struggle for a lifetime…until we help. Saving and enriching lives is what we are all about."
Highlighting, elevating, and supporting programs that address these difficulties faced by so many around the world is also one of the reasons that Sara Hastreiter chose to get involved with World Hope and lead this trip. "When acknowledging my own fortune in pursuing these challenges, I am reminded of those whose daily struggles are a part of their existence," she said, going on to not that, "1 in 9 people worldwide do not have access to safe and clean drinking water, resulting in the death of more than 800 children each day. We as the developed world can do more, and that is why I've partnered with World Hope International."
The team arrive in Kathmandu, Nepal on September 30th and will be climbing for a cause over the next few weeks.