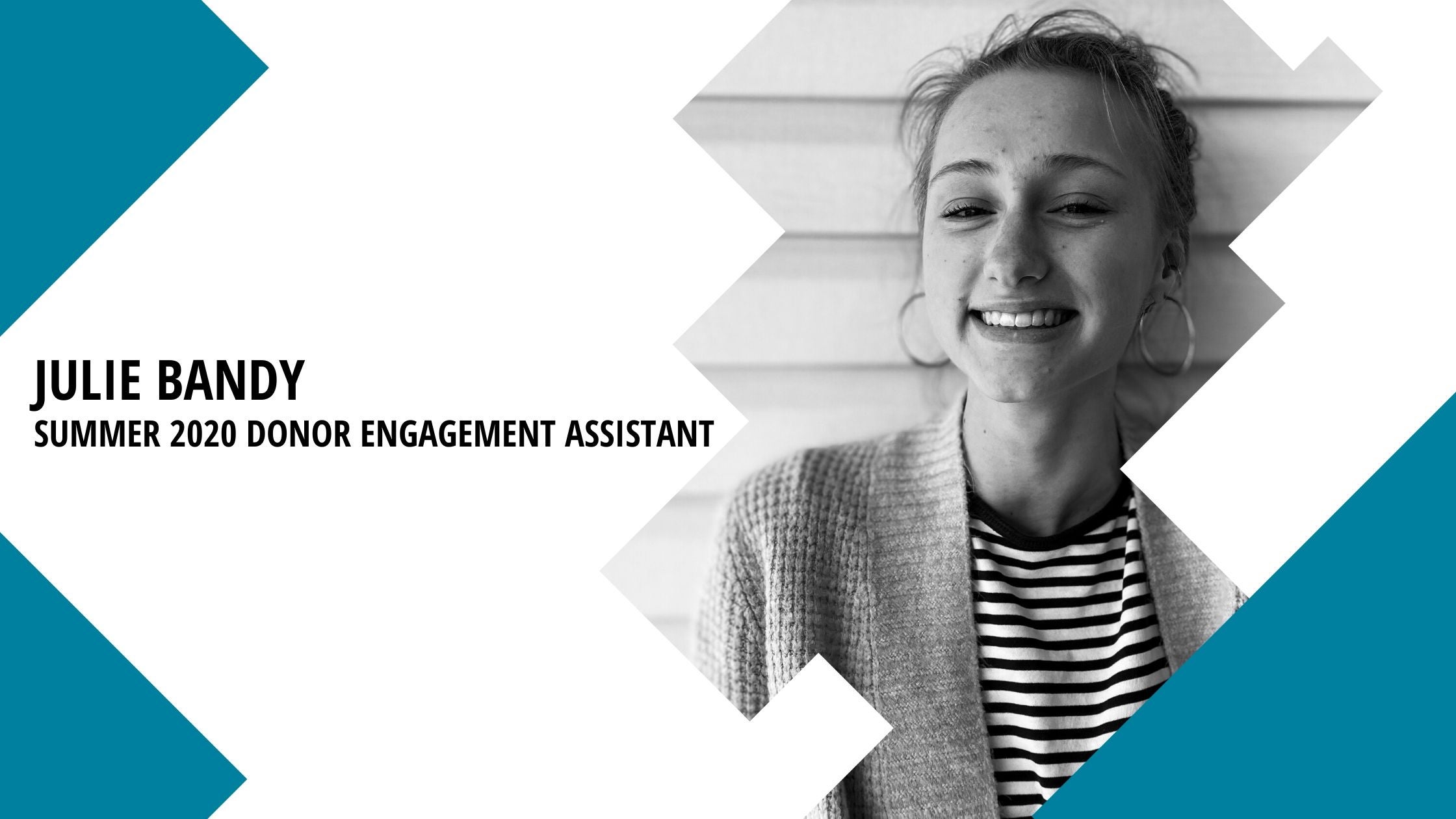 Summer 2020 Intern: Julie Bandy
Meet Summer 2020 intern Julie Bandy. Julie is interning with World Hope Interantional (WHI) Canada as our Donor Engagement Assistant. She is a huge help to WHI as her work allows our professional staff to focus more energy on the projects on their plates! This is especially appreciated as so far 2020 has been an eventful year.
"This summer I am interning with World Hope Canada in Moncton, New Brunswick. I fill the role of the summer Donor Engagement Assistant. In this role I help with the implementation of WHI's donor engagement strategy in collaboration with the Donor and Administrative Services Specialist. I primarily interact with new and existing donors by phone, email, and mailings. I also receive international project reports and assist by compiling them into the correct format and share with donors. One of my biggest roles is setting up an organized system to track all donor interactions. I have been trained in CRM Management as well and help run data reports and input all donor interactions." Keep reading to learn more about Julie!
How did you first get connected to WHI? What made you look into interning with us?
"I first got connected with World Hope through my sister-in law, Heather Bandy, who works for WHI Canada. She told me about the summer internship, and after looking into the organization, I was excited to start working with WHI. Their mission statement aligns well with my own core values: acknowledging inherent human value, championing the oppressed, and restoring hope and dignity into a broken world!"
Education
I am currently pursuing a major in Linguistics and a minor in Psychology at Tyndall University with an expected graduation date of May 2023.
About me
I am…Determined, Encouraging, Approachable, and a Team-player
Fun fact
The summer camp I grew up attending and working at (Caton's Island) is on a small island in the Saint John River in New Brunswick, Canada!
Some of my favorite things
Card Game: Dutch Blitz
Colour: Forest Green
Drink: Coffee
Out of the many types of projects WHI is involved in, which do you feel the most passionate about?
"Out of all the projects of which WHI is involved, I feel most passionate about Hope House. I have had the opportunity to have conversations with graduates of the program, and I am deeply encouraged by the work that is happening there. When people are given the opportunity to attend Hope House, the trajectory of their life is changed forever. Not only are they impacted, but so are their kids, grand kids, and so on. Hope House changes numerous lives by starting with the transformation of one life. Being given a new start is beautiful, and I am thankful to work and partner with an organization that believes in new beginnings."
What is your internship focused on and what have you been learning in that role so far? 
"My internship is focused on engaging with donors by phone, email, and mailings as well as creating an organized system to track all donor interactions. I have also been focused on creating project reports and blogs to share with those connected to World Hope. I have been learning that a close relationship with donors is essential for sustaining partnerships and growth in giving for each donor. WHI Canada values transparency and donors never have to second guess where their money is going."
What are you hoping to learn and accomplish this summer?
"I am hoping to learn more about donor relations and providing excellent customer service. By the end of my internship I hope to have a system in place that manages and tracks donor relations progress that the team can continue using."
How does this internship fit into your long-term or short-term career goals?
"This internship is setting me up for success for future jobs. I am getting a taste of all aspects of working for a non-profit by learning new skills like – customer service, marketing, CRM systems, writing, etc."
We partner with students at accredited colleges and universities to connect their talents, passions, and education to internship opportunities in our office located in Alexandria, Virginia.
Click here for more information and email info@wordhope.org to apply for current internship opportunities.