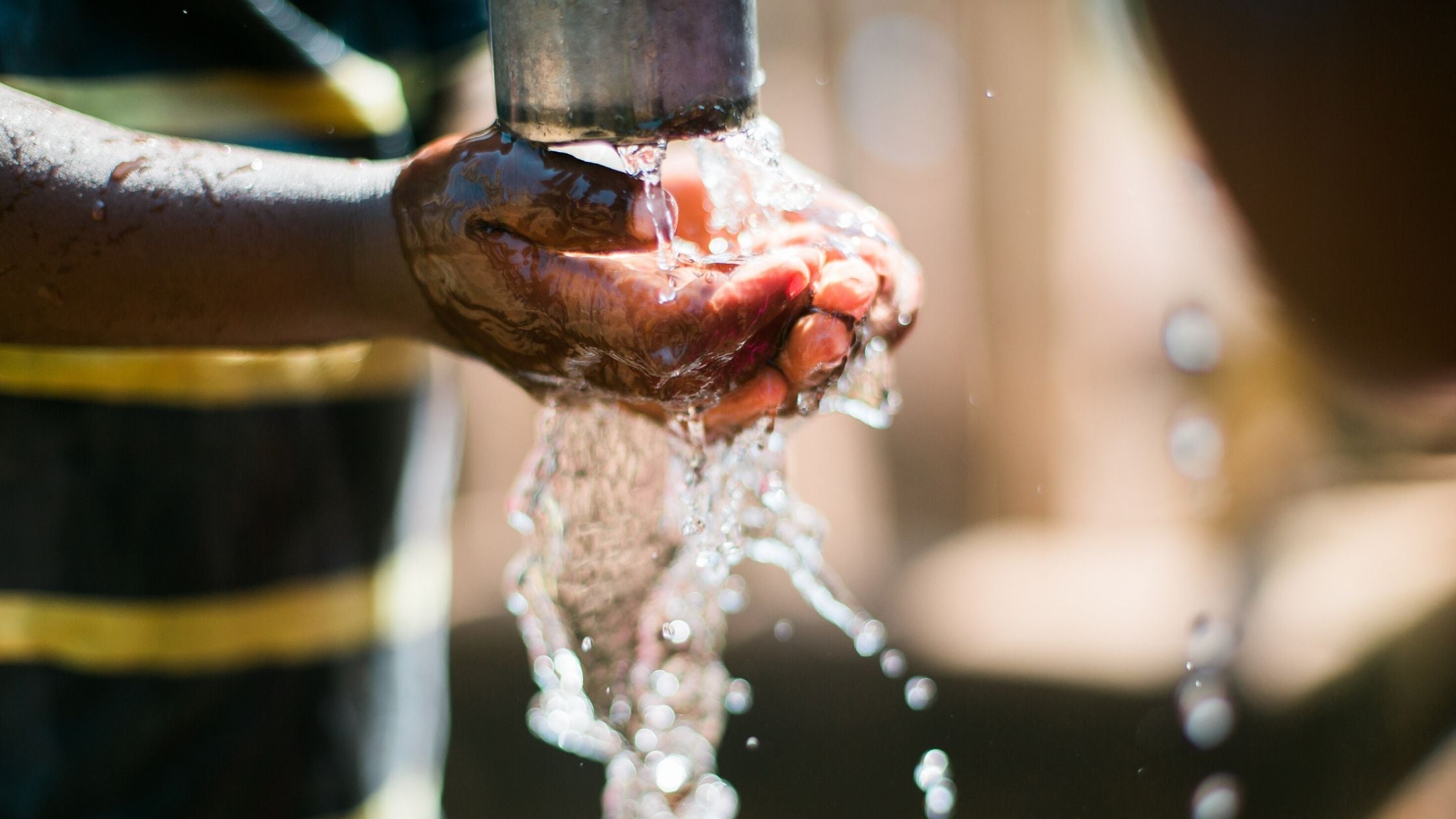 WASH Reflections: Here's to Good Health
In June of 2019, World Hope International (WHI) made a year-long commitment, along with 72 other organizations, to focus on Water, Sanitation, and Hygiene in Healthcare Facilities (WASH in HCF).
Initiated by Global Water 2020, a "three-year advocacy and facilitation initiative designed to accelerate progress toward water access and security for all people in developing countries," this commitment helped us to focus many of our clean water projects on strengthening  WASH in HCF – something that we were already deeply committed to – while partnering with other organizations to increase global action on the issue.
The World Health Organization (WHO) defines the term 'WASH in health care facilities' as "the provision of water, sanitation, health care waste management, hygiene and environmental cleaning infrastructure, and services across all parts of a facility." 
According to the WHO, there are currently an estimated 896 million served by facilities lacking running water and 1.5 million without sanitation in those HCFs. Annually, this leads to 8.6 million deaths in 137 low-middle income countries due to inadequate quality of care.
At World Hope we strongly believe that all people deserve safe access to clean water – and that it's a fundamental part of healthcare facilities and their ability to successfully operate. You can read more about how we made the 2019 WASH in HCF Stakeholder Commitment here.
Our Commitment to WASH in HCF stated that we aimed "to improve WASH in healthcare facilities in Sierra Leone, Liberia, Haiti, and Cambodia" and that we planned "to provide potable water to the Wesleyan Hospital of La Gonâve, Haiti by desalination of brackish groundwater using reverse osmosis to provide free water for the hospital and wholesale water for area drinking water distributors." It also noted that in partnership with UNDP and PowerGen Renewable Energy, we hoped "to build mini-grid solar power stations in 97 communities in Sierra Leone which will provide free electricity to medical facilities to support their water and power needs."
A year after making the above commitment, we are excited to be able to celebrate with Global Water 2020 on our collective achievements!
One of our biggest accmplishments this year under the WASH in HCF commitment was the building and completion of a water desalination facility in La Gonâve, Haiti, even amid the turbulence experienced in the country over the past year. This facility not only provides wholesale clean water to the La Gonâve community, it provides the only local hospital with free, fresh water.
Throughout the past year, we continued improving on WASH in HCF capacity in Sierra Leone and Liberia. Not only did we drill new wells and pivot the work to include rehabilitating wells once COVID-19 struck, but we also increased the sanitation and hygiene capacity of healthcare facilities with improved waste management facilities.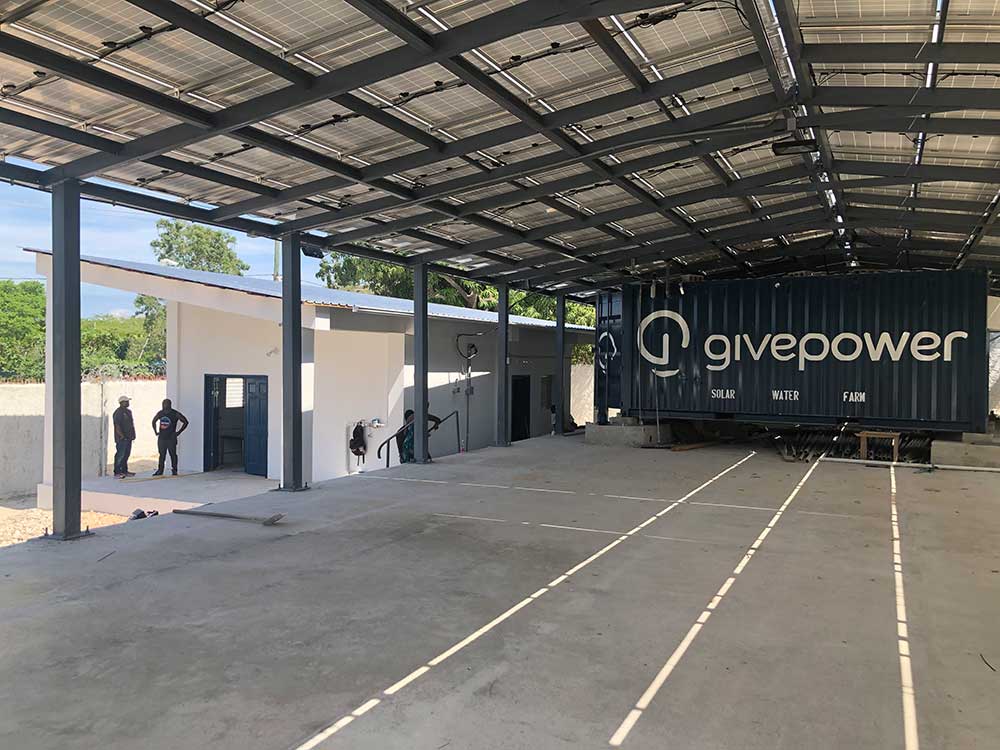 Completed water desalination facility, La Gonâve, Haiti
Importantly, we were able to launch the project of providing 97 Sierra Leonean communities with solar power stations that would in turn provide free electricity to medical facilities to support their water and power needs. This was achieved through an initial joint venture with PowerGen Renewable. We helped them secure $10.5 million in capital investments and facilitated their entrance in country and community and government connections for the mini grid systems, which are now being built.
"World Hope used its local presence and knowledge to help a mini-grid expert like PowerGen to enter the country, engage, and start operations. International investors tend to look at frontier markets like Sierra Leone and discount them with lots of risk, and that's one way that small, on-the-ground non-profits like us can help make big opportunities – such as building and connecting 97 mini-grids systems to HCFs – happen. Being on the ground, we tend to have a more nuanced and lower level of risk, and if foreign investors leveraged partnerships with organizations like us more, they'd get a better view of the true risk – and the incredible opportunities."
Click right for more World Hope WASH photos from around the world!
WASH in HCF has always been part of WHI's work in West Africa; in 2017 and 2018 alone, World Hope drilled 45 wells at healthcare facilities and improved WASH infrastructure in Sierra Leone and Liberia, including constructing hazardous waste disposal facilities, at over 55 healthcare facilities with funds from DFID, USAID, and private donors.
World Hope is determined to continue investing in WASH in HCF, focusing efforts on drilling and rehabilitating wells on the grounds of hospitals and healthcare facilities in Sierra Leone and Liberia, improving waste management and hygiene systems, and continuing to look for innovative means of supporting healthcare facility infrastructures with systems like the PowerGen mini-grids.
Our commitment extends on to Cambodia, too, where we successfully piloted TapEffect, a social venture project that provides Cambodian communities with clean, piped water, in Mondulkiri Province, Cambodia. By the end of 2019, the pilot had connected 100 households, two schools, and one healthcare facility in the province to treated, clean water.
Throughout this year we have all faced the challenges brought on by the COVID-19 global pandemic. This has only made the already present need for WASH in HCF all the more apparent to the broader public. Amid the enormous adversity of the pandemic, we are encouraged by the responses to and the emphasis that is being placed on WASH in HCF initiatives around the world.
"Our main takeaway from the COVID-19 crisis is that improving access to WASH facilities at the household, school, and clinic levels is essential to protect one's health, especially from human-to-human transmitted virus…In a country where a big portion of the population still lacks access to basic WASH services, it could have been a real sanitary catastrophe, as it has been for so many developing countries."
We are excited to continue many of our projects alongside new initiatives and partners to further WASH in HCF even more over the next few years.
The need for WASH in HCF has only hightened during this crisis. We don't believe that our commitment ends with the work we have done over the past year, but rather that it was only the starting place. That is why we are continuing our commitment to WASH in HCF. Our work is far from over, but we feel a renewed sense of urgency and commitment to partner with communities to enable access to clean water and sanitation.
"In the light of this COVID-19 crisis, as well as increasing climate change impacts, it is essential that TapEffect continues its work, especially by scaling up its piped water solution, in order to supply more underserved rural & semi-rural areas. Today, we are putting all our efforts in standardizing the pipe project design and implementation processes to make piped water a solution which can be easily replicable and investment-ready."
In Cambodia, TapEffect is scaling up and moving out of the pilot phase. In early March, the TapEffect team began laying down pipes that will connect 3,000 households, eight schools, and four healthcare facilities in Cambodia's Banteay Meanchey Province—with the taps on track to start running by August 2020! In Sierra Leone and Liberia, we are securing new contracts to further our well and borehole projects and continuing to improve and build capacity among healthcare facilities.
Our goal is to work ourselves out of this job, because healthcare facilities should all have clean water and proper sanitation and hygiene – and with the concentrated – committed- efforts of governments, NGO's, the private sector, and individuals, then maybe one day, they will.