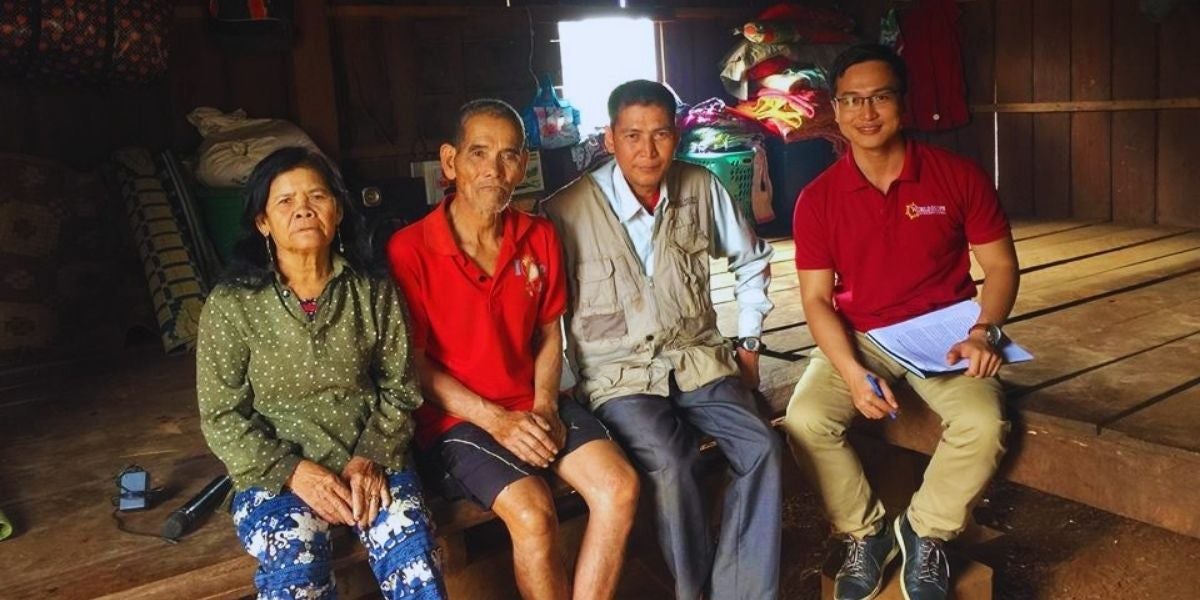 In Profile! Seng Mang: Working for Humanity
World Hope International is staffed and led by an incredible team of passionate professionals around the world. It is our honor to introduce you to Seng Mang M.A., World Hope's Anti Sexual and Gender-based Violence Program Manager in Cambodia!
A professional clinical psychologist, Mang has experience providing direct counseling and trauma-focused therapy to victims of violence. He is on a mission to see big changes come to Cambodia's understanding of counseling and mental health through his role at World Hope International.  
Mang was born and raised just a few kilometers outside Phnom Penh, Cambodia in a very tumultuous time for the country. His generation grew up in the context of the Cambodian civil war, when food and supplies were scarce and bombings were common. The educational system was thus understandably strapped for resources as well. Attendance in school was low, propaganda was being taught by teachers in classrooms, and corporal punishment was a lot more common.
Amidst all of this, Mang counts himself blessed to have been born to parents who valued education and believed that children should be in school. Growing up near the sea, Mang developed a love for the ocean and the outdoors and you can still sometimes find him out in the mountains or remote areas to get away from the town, exercise, and enjoy nature.   
Leading a child protection training for stakeholders
Throughout his childhood, Mang's parents modeled hospitality and kindness. "They were always helping people who were distressed, having difficulties or family problems," said Mang. "My parents were always kind and wanted to help people—even when someone would borrow money and not return it, they would still continue to support them." So, even though he did not know in his youth what occupation he wanted to pursue, he knew that he really wanted to help people. 
In secondary school that vision became clearer and was put into action since Mang's peers were at ease around him and knew him to be a safe person—easy to trust and confide in. Entering college, Mang enrolled in Psychology, and he knew then he wanted to work for an NGO.  Mang now holds a master's degree in Clinical Psychology from the Royal University of Phnom Penh and brings with him over 10 years of experience working in his field.
Given Cambodia's history, Mang realized that there was still a lot of generational trauma that remained after the civil war. Things have improved since he was a child but Mang finds that there is a lot of misunderstanding and distrust when it comes to the topic of psychology and mental health, creating a significant barrier to helping survivors of violence get the help they need.    
"I remember one time I was volunteering on a team to go to communities to conduct awareness-raising for basic mental health," Mang recounted. "When the people heard the team was presenting on mental health, they seemed like they did not want to attend, and were hesitant to come and talk to us because they always think that we can read their minds and were the same kind of people as fortune-tellers."  
Teaching children how to stay safe from abuse
Providing psychological support to a young abuse survivor
Out of college, Mang began working with survivors of trauma at the hospital and learned a lot from his years of experience there. Later he gained additional training in trauma-focused continual therapy working with Hagar, with a focus on children. While there, he also had the opportunity to select and train other Cambodians to help supervise the program and he occasionally trained NGO partners in basic skills of counseling and trauma care, as well.    
"When I tell people what I do with World Hope, since not many people understand a lot about mental health, I tell them that I am working for Humanity – to help people." 
What drew Mang to World Hope International was the opportunity to work not only with individual survivors but also with entire communities to prevent violence in the first place. He was able to train others and go into places that had very limited resources for mental health and trauma, instead of working in the city. Mang started out with World Hope International as a supervisor for a government social worker training program, and eventually trained others to take his place in that role. He now manages most of the programs for World Hope's Anti Sexual and Gender-based Violence efforts in Cambodia, and still works directly with survivors, as well.   
Conducting home visits to women's group members during COVID-19
"My dream is to see my whole country, especially women and children, be able to access professional counseling services when they need them."
Collaborating with the Department of Social Affairs to ensure basic needs are being met during the Pandemic 
Mang would also like to see the country have enough physical and human resources to provide a high quality of care. He longs to see women and children feel safe, and even though the general understanding of proper child discipline has come a long way since he was a child, he wants to see corporal punishment cease to exist in his nation. "I want people to better understand mental health," Mang added, "and I want people to be confident enough to find services."
Mang's determination is a testament to his beliefs and his heart. "I want to continue to contribute to the improvement of the state of my country. I don't want to be rich. I am happy with what I have and I just want to work with people." Mang is leaving a legacy in the many he has trained, creating effective advocates against sexual and gender-based violence in work that will have long-lasting ripples.